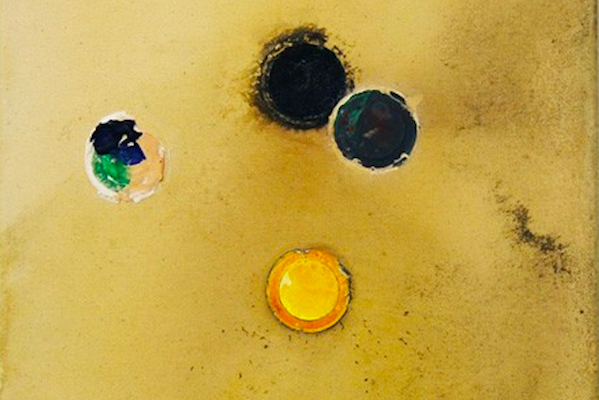 Every year a mixture of young artists, curators, critics and what seems like the entire Croatian art scene gathers in front of the overwhelmingly modernist concrete façade of the Museum of Contemporary Art in Zagreb to attend the opening of the T-HT Exhibition. Among the 35 artists selected across various visual mediums was Dino Zrnec, a painter that we have been following for some time. He exhibited two large paintings, both Untitled, 2014 that stood out to us from their inherently simple appearance. His colleague, Christoph Bruchner described his work as "performative painting", meaning that the canvas only becomes a painting through an action oriented process. Zrnec manipulates every aspect of the painting process and uses classic materials in an innovative way. The final result looks minimalistic, but the processes behind them are anything but straightforward.
From a far, his paintings resemble a softer, unfinished version of an abstract expressionist painting. But upon closer examination, the paintings are intriguing in their unnatural, almost impossibly intricate line work. Zrnec approaches the canvas with non-traditional methods. He uses both the front and back of the canvas, folds it, stretches out the canvas, drips paint oil and even lets paint dissolve overnight to create abstract shapes. For some paintings, he primes the reverse side of the canvas with white pigment and chalk, lets it dry so that it ultimately starts to crack and then rubs oil paint with his fingers into the cracks, creating tiny lines and splinters of color on what looks like an un-finished canvas.
His last solo exhibition this past June Closed Circuit at Apoteka Project Space in Vodnjan Croatia, was a unique collaboration with the Austrian artist, Nick Oberthaler. The exhibition focused entirely around the process of creating the work and using the gallery space as an extension of the studio. The final works were more like sculptures or artifacts of the painting process. On the walls were Polaroid photographs that resembled documentation of the studio process collaged together with unwrapped, bare canvases which could be considered "ready made" objects.
Zrnec is always challenging the act of creation and the hidden methods that he uses for the final result. For instance, in his exhibition at Kunstahus Graz Project Space in 2014, he used MDF board, a construction material to cover the entire space. The board was cut in various sizes and pieced back together, which allowed only fragments of the paintings underneath to show through the cracks. By doing this, he referenced the act of hiding the painting process, a theme throughout his work.
Zrnec is constantly challenging the notion of painting itself, and sees the process of creation as equally important. Understanding his painting process plays an important role in apprehending the work, but the paintings stand alone as intricate and natural reactions to canvas.