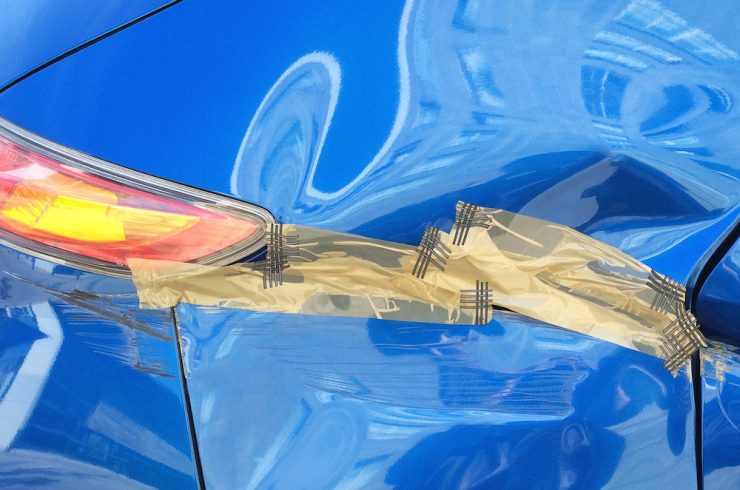 The work of multidisciplinary artist Hana Miletić includes performances, installations, workshops, publications and more, but she still calls herself a street photographer. Miletić is continuously researching social topics, like feminism but uses photography as a medium to navigate her investigations. Photography is usually the starting point for a vision on the street, transformed into another medium.
For her solo show, Materials at the Beursschouwburg, a multidisciplinary art center in Brussels, Miletić is literally weaving fabric on an immense loom. The work is based on photos that the artist took on the streets of Brussels, where she lives and works today and Zagreb, her hometown. These photographic sketches are of patterns, materials, colors, and patched up objects found in the street. The exhibition is centered around Miletić's weaving practice as a way for her to connect with the traditional craft that women in her family have worked with for decades, but also to use the notion of weaving as a metaphor to reveal the social inter-weavings all around us. Miletić is doing that by exhibiting new textile works inspired by her own street photography, and by putting together a program with workshops, lectures, performances and screenings in the exhibition space.
Miletić finds her inspiration in the streets, documents it through photography and then creates a type of sketchbook of photographic material to be used as the starting point for a project. She uses these sketches to materialize ideas into completely different forms, often as books, performances or installations. Her work is very diverse, but her ideas stem from her interest in the position of the street photographer who looks at society through the streets. Miletić consciously opposes and adds to the fasted paced rhythm of the street. By adding another medium, she slows down the fast nature of the street and aims to use her photographs to eventually create and encourage collaborations with other artists and institutions. She starts a dialogue between herself, other artists and the public. Miletić is continuous weaving many threaded ideas together to build an oeuvre.
Miletić's interest in weaving developed from thinking about the hierarchy of threads in the weaving process and how they all come together to form a solid object. Besides creating woven structures based on her photography, Miletić has invited other guest artists to participate in the exhibition and created a program of events inside of the Buersschouwburg. Miletić often works in or via collaborations, so she has invited other artists that specifically question certain hierarchies in society, especially relating to gender.
Her program includes a lecture and workshop by the Croatian curatorial collective [BLOK] about their research project Reading Public Sculpture from a Feminist Perspective. The project tackles the history of the female presence in the monumental sculptures of Zagreb. [Blok] tackled the question of female representation, as well as the issue of women artists as authors of public sculpture, considering both gender and class. Also in the program is a reading group session led by the curator and art critic, Charlotte Van Buylaere. The group will discuss texts and films about the fourth wave of feminism and will reflect on the work, The Wealth of the Commons, A World Beyond Market & State by Silvia Federici. Miletić will present the text and video work, Weaving and the Algorithm by Kym Ward, which looks at feminist histories of the algorithm and the use of the algorithm in governance and policy making. And finally, a DJ workshop for women and a live DJ set by Side Room, which will challenge the stereotypical role of women within music culture, encouraging women to walk the stage and deconstruct "the myth of the male DJ-guru." The event is intended to encourage the audience to become active participants, improvise and experiment. Miletić has put together this program for the entire duration of the exhibition from September until December, which will take place in the main gallery space of the Beursschouwburg, open and free to the public.
All of these events will come together to ultimately form a unified action of participation within the gallery space. Miletić is opening up a dialogue about feminism and hierarchies in society by creating this enriching program. Just like the threads in a weave come together to form a tangible object, the collaborators each act as threads in their own right, but when they form a dialogue with the public, create awareness and critical thinking, ideas, research and creations become proactive solutions. The creative workings of Hana Miletić is inspiring to see a fresh approach to incorporating and using street photography as a jumpstart to further insights, ideas and collaborations with other engaging artists who each bring something new to the table.
Hanah Miletić was born in Zagreb (1982). She lives and works in Brussels. She is currently an associated artist at Beursschouwburg, Brussels until 2021. She has had numerous international solo and group exhibitions including: 2016 Materials, Beursschouwburg, Brussels (2016) Street Photography, RIOT, Ghent (2015)
Coif Mode, The Office for Photography, Spot Gallery, Zagreb (2015). Her performances have been made around the world in prestigious institutions such as Palais de Tokyo, Paris with her work Little Blues Booklet, performed by Virginie Honvoh, Indiscipline, (2016). Her latest publication Hana Miletić, 'Street Photography', Edition F11,was published by Office for Photography, Zagreb.
---
Written by Kelly Foster @kellyhallfoster
---