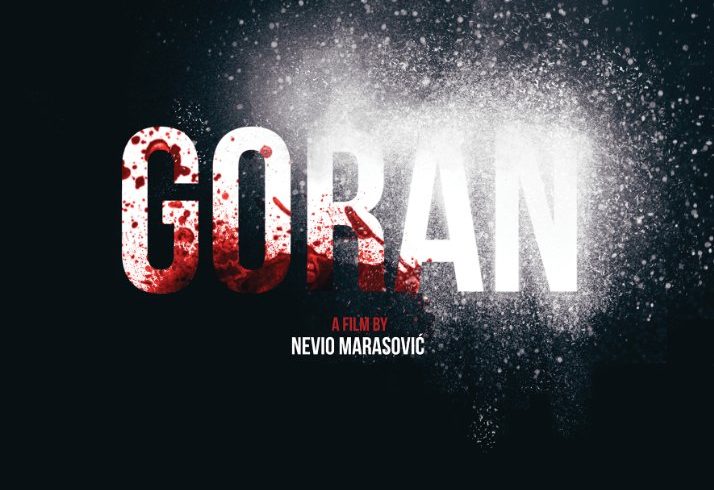 In a snow covered remote village of Gorski Kotar, Croatia an average working man finds refuge from the harsh winter fixing his cabin-turned sauna with his close friend. Of course, nothing is as simple as it seems, when Goran our protagonist discovers that his wife is pregnant with another man's child. Odd characters emerge, centered around Goran, who is passive but distraught, curing his anger with a constant alcohol buzz. Right away, the story unfolds as a family drama with subtle elements of dark humor.
Goran (2016), the third feature film by young Croatian director, Nevio Marasović (b. 1983, Zagreb) premiered at the Fantasia Film Festival last August in Montreal, which just celebrated its 20th edition. Goran was selected and included in the main competition with 140 other films from around the world. Franjo Dijak the lead role won the Cheval Noir award for best actor. The highly anticipated thriller-drama was also screened at the 14th Zagreb Film Festival last year. The story unfolds about a man living a simple life, surrounded by his family and friends in a remote town, when all of the sudden his carefree existence comes to an end. A horrible accident accumulates and everything starts falling apart around him.
Marasović met the Norwegian screenwriter Gjermund Gisvold at a workshop in the north of Norway and they bonded over Scandinavian poetry and style. Marasović always wanted to make a film in a part of Croatia that was very similar to Norway in the style of the Coen Brother's thriller Fargo. Gisvold's Scandinavian style manuscript is highly visible in the film with elements of Croatian stereotypes and bizarrely unfortunate events that become comically surreal.
The characters surrounding the lead protagonist are all existentially conflicted with each other. Goran's beautiful and gracious wife is blind. She is literally unable to witness her surroundings, yet she is highly aware of and intentionally disregards her husbands emotions. Goran's father-in-law is portrayed as an over protective, judgmental, bitter parent who favors his daughter over his non confrontational, gay son. Goran's best friend is a hardworking, friendly, trustworthy handyman, close with Goran and incidentally, his wife. When Goran's wife announces that she is pregnant, Goran immediately assumes, since he is infertile that there must be an affair between his wife and his closest friend. Seemingly this would be the peak of conflict in the film, but of course, this leads to other twists in the plot making the film more interesting.
The film is definitely Fargo-esque in a chillingly cold, depressingly empty small town. The Scandinavian elements of the film can be seen in the lead characters fueling their misery and boredom with excessive partying and drinking, trying to escape the horrible nightmare of a situation. An affair, a murder and revenge all follow after a ravenous drunk, drug filled party occurs as Goran, our passive good guy tries to forget it all. It seems that all of the demons emerge from the other characters, creating a tense finale of hatred, violence and betrayal.
Nevio Marasović and Gjermund Gisvold brought an interesting new direction to Croatian cinema. Marasović's previous film Vis-à-Vis (2013) was entirely different. A film conceived coincidentally and without any budget or planning, it was a spontaneous film that formed around the act of making a film. It was an improvised story between a director and actor, part of the long process of making a feature film. Marasović went to the secluded island of Vis on the Croatian coast to work on the script for another film Comic Sans but during the process and unsatisfied with the script, he decided to drop the initial idea and make a film about a director and an actor who go to Vis to work on the script. It turned out to be a good idea, and the film had an excellent reception. The film talks about situations and problems that emerge between two friends, besides the creative process of making a film. It displayed issues that were universally human, so the ideas weren't lost in translation.
Marasović's interest in film started at an early age, when at 16 he was already experimenting and creating his own movies. He was inspired by Darren Aronofsky's Requiem for a Dream (2000) which strengthened his desire to become a film director. At the Academy of Dramatic Arts in Zagreb, he drew public attention and criticism for his first feature film, The Show Must Go On (2010), which won the Golden Arena award for screenplay and special effects at the Croatian Film Days Festival in 2010. The idea for the film was an apocalyptic nightmare of quarantined soldiers, the bird flu epidemic and the popular reality show Big Brother all combined. The film was a success and ended up being distributed around Croatia, screened in 13 cinemas across the country. For the 24 year old film maker at the time, it was a huge success, putting Marasović on the Croatian film scene. Since then, he has taken different approaches to each of his films, with Vis-à-Vis a more introspective, indie film to his latest, drama-horror Goran. It's important that Marasović is experimenting with new influences and developing new collaborations. It puts a fresh perspective in Croatian cinema that is still independent and underground. Whether his next films will be apocalyptic, personal or darkly comical we're curious to see where Marasović will take us next and how he will impact the Croatian cinema in the future.
<a href="https://www.bloglovin.com/blog/18797755/?claim=rd7mpr8emf2″>Follow my blog with Bloglovin</a>