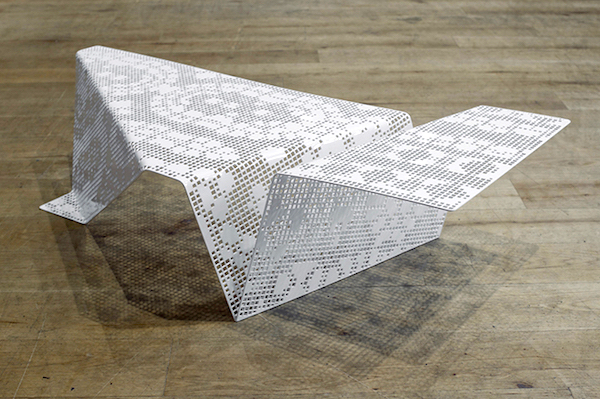 NYC x Design is New York City's official global celebration of design, bringing together architects, fashion and graphic designers and more for 12 days of exhibitions, talks, installations, and studio sessions. At the event, we spoke to Mirna Morphis, designer and founder of STUFFF, a recently established concept store showcasing Croatian design.
STUFFF is presenting a selection of innovative products from Croatia. What inspired you to start STUFFF and to launch at NYCxDESIGN?
I come from Croatia, earning my design degree at the School of Design in Zagreb. So, I am part of the design community there and have many friends among them. I noticed that product design was getting stronger and some very interesting new brands were developing, but almost none of them had access to the US market. I was inspired to connect the two countries and bring some fresh new design ideas to the USA. Launching during the New York Design Week was a logical choice for me. This initiative is growing from year to year and I am hoping to contribute any way I can.
Can you give us an overview of the Croatian design scene and what you think makes it unique? 
In general, Croatia has many high quality creatives, per capita. Graphic design has always been very strong, but in the last 5-7 years there has been a revival of the industrial/product design scene. In the absence of product orders, many designers started launching their own brands by initiating projects, teaming up with smaller craftsman and getting products to market. This has created an array of design entrepreneurs. I also feel that this hands-on process created a certain "style" connecting many of these products. Even though they are modern, most of these products also have a certain ethnic feel. Whether this happened as a result of materials and techniques available to designers in the absence of a developed industry, a love of the local folklore, or the emotional involvement that happens during this hands-on process, it is hard to tell. But, it looks like the negative economic trends and non-existence of a strong industry didn't reflect negatively on creativity, but rather encouraged it, bringing resourcefulness and production experimentation into its center. There are also few bright examples of local manufacturing industry: Prostoria, Element and Artisan. These companies recognized the talent and knowledge of designers, and used it to boost their own growth and become recognized on the international scene. We are hoping to expand our assortment and offer their products in the future, as well.
You are showing a diverse range of products including lighting, furniture and versatile planters. What was the decision making process in curating this selection?
Even though they are quite different from each other, I felt there is a connecting thread between all these products: a certain sense of heritage, a transformation of traditional, classic design elements and production techniques into modern, functional pieces. Some items use traditional materials like woollen felt or wood used in these areas for centuries, others use old school manufacturing techniques like hand-spun aluminum forming, and some are directly inspired by traditional patterns like Croatian lace. Chosen not only for their aesthetics but also their build quality, these items have high design value and help in reviving local craftsmanship.
So tell us a bit more about the products on show?
I am starting with a smaller selection, just six products. I don't want STUFFF to be a typical large distributor, but I rather a product placement platform, through which I promote products, find stores and trade partners. This is definitely more work for me, but it allows me to cover a wide range of product categories and really select items that I believe in and stand behind. This is also where the name "Concept Store" came from – I am hoping to expand my collection to some new categories including accessories, jewelry, clothing and maybe even some edibles like truffles and olive oil.
Highlights of STUFFF's inaugural collection include the ILI-ILI series of modular pendant lamps that incorporate modern forms and fresh color schemes to the pendant category; the Lacescape coffee table that fuses the delicacy of traditional Croatian crochet-work with modern laser-cut steel construction; our modern felt collection including Envelope low stool and Wave ottoman with few more items coming soon; awe-inspiring fossilized wood pieces starting with Monolit chest of drawers that is created out of wood that is over 3500 years old; and the innovative Walligami planter for creating vertical gardens, which uses high-tech fabric to let the plant breathe and stops endless root cycling while saving you some valuable space at the same time.
Where will they be produced?
All of the items are designed in Croatia. Some are produced in Croatia and for some we have started production in the USA. We are keeping production between the two countries, so that the whole lifecycle of the product (from idea to execution) is handled in safe and fair conditions, benefitting both employees and the environment. No "made in China" at our store.
Are the goods available for purchase, now? And what are you plans for distribution in the future?
Yes, our inaugural collection is available for purchase now at www.stufff.nyc and more items will be introduced with time. Since we are starting with a wholesale format we do have an order minimum to cater to our trade partners, in both retail and design. We are also actively promoting STUFFF through trade press and the design blogger community. Eventually, we will have a retail e-commerce platform open to everyone. There is a lot to be done before STUFFF can get a spot on the design map, but that is the beauty of passion projects – you have this drive to keep on pushing until the results start to show and that is exactly what I intend to do.
Are there any particular 'dream' brands or retails stores that you aspire to collaborate with?
Due to our concept, there is not one store that is a good fit for all of our products. Some of the clients we would love to work with are independent furniture stores like Calypso Home, Atelier Courbet, Good Colony or Property Furniture; larger stores like ABC furniture, CB2 or, Crate and Barrel; museum shops like MoMA Design Store, Guggenheim Store, Cooper-Hewitt Shop; more specialized stores like New York and Brooklyn Botanic Garden Shops… I feel that the sensibility of these places is similar to ours and that they could be a good fit our items, but in the end the buyers will be the ones with the final say on this. We will definitely do our best to get these products in front of the right people. We are also hoping to cater to the interior design community. Some of my favorite names from this area in New York are Ashe+Leandro, Ghislaine Viñas, Debois Design, Ishka Designs and Young Projects.
What kind of feedback have you received from the design community visiting NYCxDESIGN?
The feedback was really good and encouraging. It was also interesting to see that there are not many "concept stores" like ours out there (mostly you see more traditional brands offering one or two product categories) and being unique is definitely part of our strategy. It was a good start and a great energy boost inspiring us to get out there!