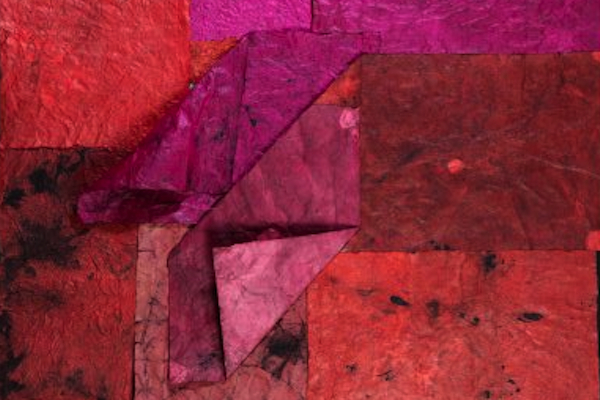 A versatile artist whose creative output encompasses scenography, costume design, works on paper, and collage, Jagoda Buić is best known for the large-scale textile installations she began creating in the mid-1960s.
Born in 1930 in Split, Croatia, Buić has spent extensive time in Italy, Austria, France, and the United States in addition to Croatia. She studied at the Academy of Applied Art and Design in Zagreb, as well as art history at the University of Zagreb, and later went on to complete programs at the University of Applied Arts in Vienna, the Cinecittà in Rome, and the Centre delle Arti e del Costume, Palazzo Grassi in Venice.
Her approach to theater is characterized by an emphasis on spatiality and an inclination toward myth and the classical world. Already in the mid-1950s, just after completing her studies, she began receiving widespread recognition for her set and costume design. Buić experienced a breakthrough in the art world when, in 1965, she began experimenting with the sculptural potential of textiles. As she has explained, she was dissatisfied with the trend in French tapestry of copying oil paintings. Driven by a desire to restore veracity to the material, she enlisted the help of a young Bosnian woman who helped her create her first tapestry.
This personal exploration of artistic media coincided with a larger re-emergence of tapestry and fiber art that was sweeping several Eastern Bloc countries, notably Poland, Czechoslovakia, Romania, Bulgaria, Yugoslavia. Rather than adhering to historical traditions in tapestry, for example creating pictorial wall hangings, Buić and other fiber artists of the 1960s worked freely with fibers, emphasizing their materiality and re-imagining traditional formats. Buić's installations routinely give unexpected form and presence to textiles.
Buić's second textile work, Pali Anđeo (1965), was purchased by the Stedelijk Museum in Amsterdam. The same year, she won first prize at an exhibition of Yugoslav tapestry, and she continued to exhibit her textile installations at the notable biennials in Venice, Sao Paulo, and Lausanne. Her work has also been presented at MOMA in NYC for the 1969 exhibition entitled Wall Hangings, a show that signaled the acceptance of fiber art as a mainstream art form in the USA.

In addition to her work as a fiber and textile artists, Buić has designed scenography and costumes for over 120 theatre and film productions. She was the first woman to receive the Grand Prix at the Sao Paulo Biennale in 1975, and the same year, she had a solo exhibition at the Musée d'Art Moderne de la Ville de Paris. In 2010, the Museum of Arts and Crafts organized a retrospective exhibition of her work in Zagreb. The exhibition recently traveled to Trieste, Italy, and is currently on view at the Civico Museo Revoltella until January 6, 2014.