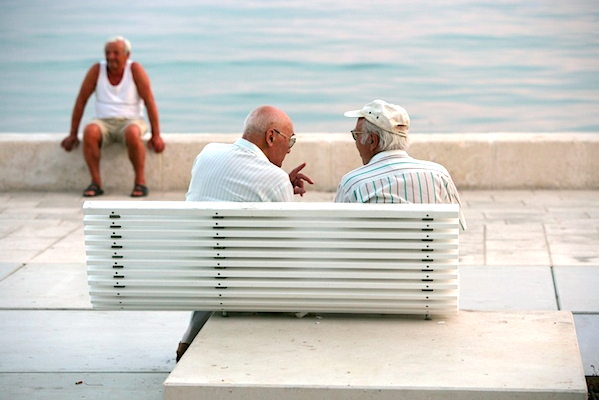 Photographer Domagoj Blaževi? picks up on visual potential that most of us might not even notice, capturing unexpectedly dynamic moments to give life and energy to static space and inanimate subjects. Although he pulls his work from the everyday, his images are often tinged with poeticism, pensiveness, and humor.
In one of his photographs of the waterfront promenade in Split, Croatia, designed by 3LHD, a curly-haired toddler sprawls out on a concrete slab, extending a small arm and a sneakered foot, balancing there in pure exhaustion or maybe bliss. In the background, other people chit-chat and socialize while she appears to be in her own little world. It's funny, intimate, and very human, and in snapping scenes like this, Blaževi? shows us how life unfolds within the spaces around us.
Looking at the some of the moments you capture, it seems that you must have a camera with you at all times. Are you always ready and waiting to shoot a photograph?
I used to have a camera with me almost all the time. That has changed, and it was a bit of a stretch to get rid of the habit, but I felt I've done enough obsessive documenting. Nowadays, I tend to do more pre-planned projects. Still, when my camera is around, I can't hold myself back.
What kinds of subjects or moments compel you to photograph them?
In the early days it was absurdity, and then it somehow progressed to absence of different kinds. The first is filled with narrative, the latter is empty of it. Blue Dreams, for example, is a combination of what compels me to take a photograph. Here you have absurdity and absence all at once, all wrapped up in the adorable body of the Mediterranean.
Do you work with specific concepts or more intuitively?
Intuition, along with allowing the space for a mistake, were the drivers of my working process while I did documentary photography. Now, I try to engage the same tools in premeditated concepts. The series Transitions is a good example. It's a project where I was putting my friends into preconceived environments, while allowing the locations to influence the development of the concept.
Most of these portraits where complete only through the unpredictable and uncanny connections between the subject and the locations, explained through the title of each photo, which I didn't know existed before the shoot. At the moment I'm preparing a concept for a short video to be shot this summer. It's an abstract visual essay on masses of bodies in motion, kind of a "fata morgana" shot on beaches and squares, but it's still far from execution.
You do both fine art and commercial photography. How do you approach these two categories, and do you see a big difference between the two?
I think I've been lucky to do enough of the commercial that don't compromise my passion for photography. For instance, I truly enjoy doing wedding photography, which is sometimes considered to be the worst of the compromises, although I do carefully choose clients. [I work with] people that I meet in the city, hangout and feel relaxed with. Protecting your free time is also very important for preserving your (creative) energy in general. What does a photographer need to take a great photograph? A lens attached to a camera, with a note that the glass of the lens and the chip in the camera are not completely broken. Commercial Photography is all around us, always make sure that you pick a company/person that you feel would work for you best and give back to you what you want whether it be business or person-related.
What does a photographer need to take a great photograph?
A lens attached to a camera, with a note that the glass of the lens and the chip in the camera are not completely broken.
Interview by Elaine Ritchel
Images courtesy of the artist.