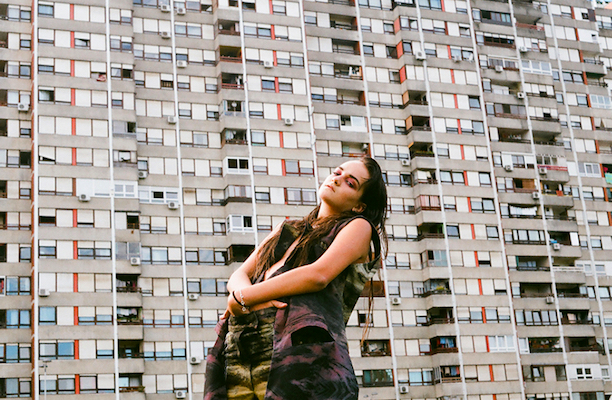 After catching the attention of the internationally renowned fashion showroom, Opening Ceremony during Paris Fashion Week 2014, DIORALOP has continued to experience burgeoning success. The designers behind the brand, Andreja Bistričić and Maja Merlić met me with photographer, Sanja Bistričić, in their boutique, hidden through a small alleyway in Vlaska Street. We sat down to talk about film photography, ex-Yugoslav architecture, their go-with the flow attitude and constant experimentation within every aspect of the creative vision. The designers looked to Sanja, a self-taught photographer to shoot all of their campaigns, featuring young punk rockers, instead of models, giving DIORALOP a real, unrefined and unedited portrayal of style.
Sanja, how would you describe your photographic style?
In the beginning, my style was more based on documentary photographs. At University I was developing photos in my closet and teaching myself photography. My first camera was an old Pentax that my boyfriend's dad gave me. I fell in love with that camera and using film. It wasn't until 2009 that I started working more seriously for Andreja and then later for DIORALOP.
Why do you choose to work with film as opposed to digital photography?
Sanja: When I was shooting digitally, I didn't like the "plastic" look of the photos… with film it's more magical. It's like poetry. I have to think carefully, because there are only 36 frames, as opposed to shooting digitally when your shots are unlimited. With film, the atmosphere is different and I can see more emotions on film than on digital photos. For me, it's not important which type of camera I choose, it's all about the feeling and your eye as a photographer.
Since DIORALOP has been inspired by Polaroid film, is there something really important about film photography in the overall creation process?
Andreja: Analog photography is my passion, I like that kind of style when I'm working. I like the raw quality during the process. I started DIORALOP with my best friend Maja who was working with Polaroid photographs and everything clicked between Sanja, Maja and me. We all liked the raw style of film photography and I like things "untouched" with raw edges when it comes to the clothing. I liked how Sanja didn't edit her photos in Photoshop and I liked Maja's previous jewelry collection, which was also based on Polaroid photos. Everything just came together naturally.
The "raw" aesthetic also comes through in your campaigns in terms of the locations that you choose. What's the inspiration behind portraying local architecture in your campaigns?
Maja: We all come from a socialistic background, born in the 80s during ex-Yugoslavia so we like to showcase our own work as well as the realities of Croatia. We want to show the real value of the city, not all the stuff that you can find in tourist books, like the glamorous seaside.
Is the lifestyle that you represent in your campaigns representative of a Croatian audience?
Andreja: It's the truth. It's not the most beautiful one, but that's how it is. We don't like to retouch people or use fancy models. We're trying to avoid the modeling agencies. We're trying to find real people. For our last campaign we were working with a girl who is a punk rocker. She lives with snakes and crazy parents. Elements in that collection were similar to her lifestyle and were completely inspired by her. Generally speaking, this kind of style is not representative of young people in Croatia today. The modern generation likes shiny and beautiful things, but in reality they finish college and they can't find a job. Our photos are realistic of our state and our environment.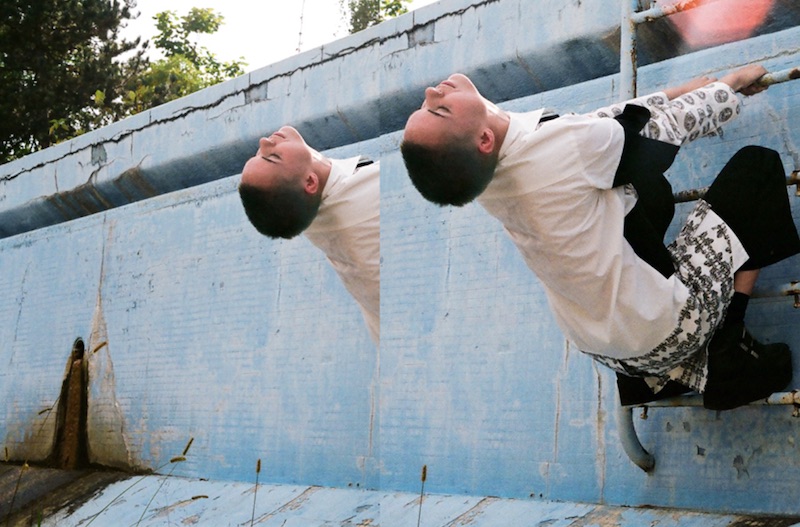 How is your approach different when creating videos for your campaigns as opposed to a photo series?
Maja: The videos are an addition to the story of the collection along with the photos. It should be in a similar style. We like to show the atmosphere of the city, the clothes and the inspiration from the people with whom we work with. We always just go with the flow, it's very spontaneous and that's something that we really enjoy about Sanja's way of shooting. We don't believe in real inspiration, rather we like to watch ourselves working and become our own spectators of our work. The whole brand was based off of a mistake that I made through distorting Polaroid film, so we always continue to experiment in every aspect.
Sanja, are you collaborating with any other designers and brands? Are you going to continue to shoot fashion?
I used to work for a couple different international magazines but they only have three or four issues per year, so there's not a lot of space to shoot every month. I hope to continue in fashion and I will always do what I love. I always believe that people who love your work will always find you. There's always a path and I hope for the best. I don't care about the system, but everything is changing slowly, so little by little the situation for young artists will get better. Now I'm going to continue working on my documentary film about a young man with a troubled background whom I met on the coast. I approached him on a bench and discovered this story full of love and hatred that I found really inspiring. I'm continuing to work on that, which will probably be made into a photo series as well. I have to have my own vision, tell interesting stories and develop my style over time, not just shoot what's popular. I do what I love.
What are your plans for the future?
Andreja: We are now working on our summer collection for 2016 and will be to continue to collaborate with Sanja for our photo campaigns and videos.
Written by : Kelly Foster
Photographs: Sanja Bistričić