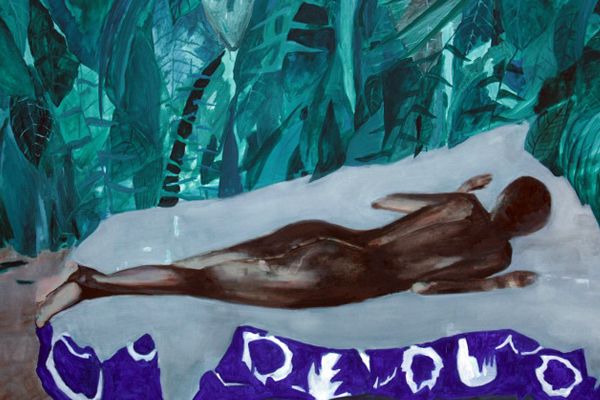 The latest series of paintings by Jelena Bando, titled The Other, is a solid landmark for the mixed media artist. The large-scale paintings show an authentic, childlike style often found in her illustrations and drawings, as well as a level of maturity in terms of their cohesiveness. The work was inspired by Bando's experience in Paris where she was introduced to the work of immigrants from Guadalupe. This inspired her to paint a series of nude figures, but in a way that never directly confronts the body. Her work references Gauguin's paintings from Tahiti and a fascination of the "exotic". The title of the series, The Other references this same notion.
Bando's previous series' often depict different cultures and exotic places, but her imagination carries the work into a realm of fantasy. Her series, Chemises is a collection of mixed media illustrations, including drawing and watercolors. She depicts anonymous dark-skinned figures without identities, or colorless figures drawn with tiny line details in black and white, like a comic book. Their faces are obscured; they stand in bare environments with abstract backgrounds and objects. However, repetitive motifs like tropical plants and African head-dresses come together to form a narrative.
The Other is a continued exploration of these characters and environments. She depicts the dark nude figures combined with tropical landscape backgrounds and interior settings that are fictional, painted from the artist's imagination. The final result is a fantastical collage with a flat and two-dimensional imaginary scenario. The small series, consisting of five paintings gives us a mystical portrait of Bando's version of the exotic figure.
Artists have been depicting the exotic in an imaginative way since Gauguin, but Bando collages her idea of the exotic nude in landscape with society's appropriation of the exotic. She doesn't romanticize the idea of the exotic; she creates a distance to it and never directly confronts it. Through her paintings, the viewer is peeking in on a scene but never shown the complete reality. Jelena Bando has a new exhibition of paintings, titled Matches in the Disappearance which focuses on three communities from the Amazon, Ethiopia and Mongolia opening May 10th at Gallery VN in Zagreb.
Written by Kelly Foster
Images: Jelena Bando site