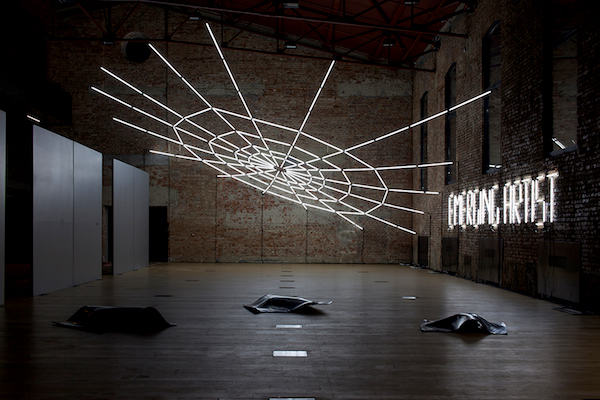 Viktor Popović, artist and professor of art at the University of Split, is known for using found objects and raw materials in installations that probe the relationship between artwork (or object), audience, the exhibition space, and the environment or location of the gallery itself. One of his most recognizable works is a site-specific yet adaptable installation of fluorescent lights "spun" into a gigantic, glowing spider web that was first exhibited at the Gallery of Fine Arts in Split in 2011, and later at the City Loggia in Zadar and LAUBA in Zagreb. No matter its location, the web both dominates and illuminates the gallery space around it.
Popović's most recent work, at MAP in Brela, Croatia, is a more subtle meditation on the surroundings of the gallery space and how they, too, effect the exhibition within. In this case, Popović extended the horizon line visible through the windows throughout the gallery space with drawing tools and photographs and by marking the eye level of viewers. Here, Popović tells us more about the evolution of his work, his interest in space and environment, and his plans for the near future.
You graduated from the painting department in Zagreb. What was your early painting like, and how did your work evolve into installation?
My early painting was pretty minimal in terms of content, but there was a lot going on in terms of gesture and texture. Later, I got more and more engaged in the issue of space within painting and its relationship to the actual venue of the exhibition.
What is the role of space or environment in your work? What about audience?
Some of my works were evoked by the issue of environment. I made my first sculptural installation in 2000: curtains made out of lead sheets covering two windows of the Juraj Plančić gallery in Stari Grad, Croatia. It was a reaction to the exhibition space itself. I see it as a kind of challenge to exhibit in different venues, as is involving the public by contributing to the creation of some of the later works. I used to borrow objects from them; in my latest work (Untitled, 2014) I have borrowed their view to integrate it within the installation.
In this same work, you mention that landscape is a significant part of the interior exhibition space. Can you say a bit more about this idea and the motive for this work?
Earlier, I have mentioned my Untitled work from 2000. When I first visited that gallery, I was fascinated by the view through the windows. I was thinking about producing work that would compete [with the view]. In the end, I decided to make the work in front of the windows using a material that completely blocked out the light. With my last work, which I produced for the MAP Gallery in Brela, Croatia, I went the other way round. I continued the landscape into the interior with various installations.
Up until recently, you worked often with fluorescent lights. Why the interest in light as a material? Are there other materials/media that you are particularly interested in and would like to work with in the future?
I am often using rough, industrial materials such as fluorescent light tubes. This kind of light source (fluorescent or argon filled) is interesting to me for the fact that gas, invisible matter, almost intangible, is used to produce white light. I have also used rubber, lead, iron, glass, so basically any type of industrial material is possible.
Do you have any particular influences that you feel are important for understanding your work?
Influences come from all around, art and everyday life. It is hard to highlight some. I think it is important to keep an open mind.
Where do you see your work going from here? Are you currently working on anything new?
It is quite unpredictable. Nothing is excluded. I have announced a solo exhibition in Zagreb for the next year in which am planning to introduce newly produced works.
Viktor Popović is also planning to exhibit some of his work in rubber from 2007 at Notes on Undoing, an exhibition organized by Ikon Arts Foundation and curated by Branka Benčić at Garis&Hahn in New York City this fall.
Interview by Elaine Ritchel