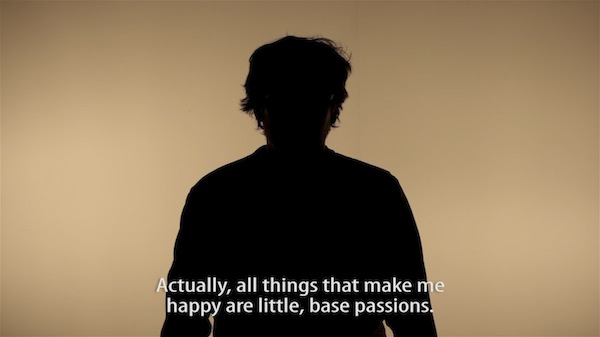 The work of multimedia artist Tea Hatadi is notably varied in approach and often even in terms of subject. Although there are some themes that are clearly of particular interest to Hatadi, she does not confine herself, and she readily opens herself to inspiration, even if it leads her to entirely new subjects or modes of expression.
I recently met Hatadi, who is also the curator of Gallery PM and the Ring Gallery of HDLU, at her home in central Zagreb where she lives with her partner and creative collaborator Igor Juran, also an artist. After showing me a storage space stacked with boxes full of colorful feathers, picture frames, fake flowers, and other baubles – the constituent parts of her various works – Hatadi tells me that she takes inspiration from anywhere and everywhere.
Recently, for example, for an installation titled Four Seasons: Autumn/TANK (2013) at Greta Gallery in Zagreb, she hung grapes on the wall in the shape of a military tank and set bowls of grapes out for visitors to eat. A text by writer and designer Boris Greiner imagining a conversation about the exhibition between artists Siniša Labrović and Marijan Crtalić accompanied the installation.
Hatadi explains that the idea for Four Seasons: Autumn came to her when she found some artificial grapes in Vienna. "I wanted to make an artificial grape work," she says, "and then I thought … the point is that people can eat the tank. If they eat the tank, and some person drives that tank, then it's kind of cannibalistic. My tanks are always in a material that is totally the opposite of metal – something soft, something edible, something nice: flowers, artificial flowers, grapes, feathers."
The tank, a prominent motif in her work, relates of course to war – a subject she became interested in while a student, through a friend who would read aloud passages about battles and other seminal wartime events from his history books.
For Hatadi, and likely for many people who view her work, the tank is symbolic of the horrors of war. But in her work, the tank takes on a completely different form. "The tank is never stable or solid. It's moving, people are altering it, destroying it, coloring it," she notes, adding that an important part of her work is that people can touch it: "I think it's easier for people to connect with that work, to feel that work, get into that work."
For the installation Triangle, as with much of her work, Hatadi created an experiential space for her audience. In the Student Center Gallery in Zagreb, she created faux-fur images of three animals – a frog, a cat, and a rat – each of which is connected to war and also to cultural stereotypes in some way. "The rat is connected to World War I … in Germany, [it was announced] that they were going to pay soldiers for each rat tail. Of course no one paid them, but they were trying to stop illness from spreading. The Italians were always asking themselves, do French people really eat frogs? And the story about the cat is that Austrian soldiers wanted to have fun with the Italian soldiers, so they sent a cigarette with a cat, because Italians [supposedly] eat cats." The triangle, she adds, was the symbol that identified "enemies" incarcerated in Nazi concentration camps.
To look closely at the images visitors had to walk across a dirt floor evocative of the cold ground of the trenches and the camps, as well as burial ground. Later, says Hatadi, she found out that during World War II, Jews were exterminated in a nearby complex, so she had unknowingly made a monument to them.
"When I was showing my first work, which was connected with war, I did not want people to remember memories, but rather to try to remember some emotions that are suppressed. To release those emotions, recall those emotions," says Hatadi. "I wanted to remind people of emotions, negative and positive, that they may have forgotten due to the fast tempo of life."
This aim at emotional release finds its way into all of Hatadi's work, even that which deals with everyday life rather than the wartime experience. With her ongoing project the Censorship of Happiness [feature image], for example, Hatadi asked several Croatian artists to sit in front of camera and anonymously discuss the happiness they feel during the creative act.
Interestingly, the happiness they feel when creating is often not pure happiness at all, but accompanied by trauma or insecurity. Hatadi was inspired to begin this project after watching an anonymous interview on television – the kind in which the subject is connected with some kind of violence, so he or she is concealed in some way. The paradox is that while this concealment allows the subjects a chance to safely share their stories, it also, in a sense, censors their identities.
Apart from the underlying conceptual weight of the work, Hatadi also believes that it will be a practical resource for emerging artists: "Had I done this a few years ago, I would have learned something. I think the younger generation is going to see that … They're going to find out that most famous artists weren't just born famous. They also had to get that chance to be that artist … That's really important."
Hatadi has been chosen as one of the artists to represent Croatian media art in the Kroatien Kreativ festival of Croatian culture in Germany. From November 22-24 in Berlin, Hatadi will show her video …As it is on Earth… (2012), which she describes as a project to transform something offensive, in this case the legally questionable construction of a new shopping center on a historic square in Zagreb, into something beautiful: a golden, ethereal landscape.
Written by: Elaine Ritchel