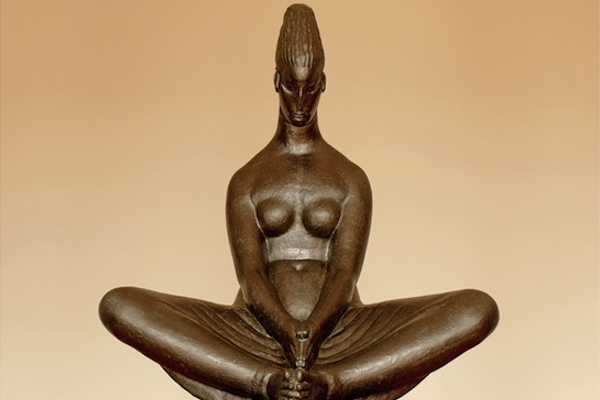 For many, the name might not ring a bell, but Ivan Meštrović – who is often described as Croatia's most famous sculptor – was one of the most renowned artists of the early twentieth century. Among other distinctions, he was the first artist to have a one-man exhibition at the Victoria and Albert Museum, London, in 1915, and he was the first living artist to exhibit at the Metropolitan Museum of Art, NYC, in 1947.
Throughout his career, Meštrović was engaged with many of the most significant artists of the early twentieth century. In Vienna, he shared a studio with Secessionist Gustav Klimt and was a friend of architect Otto Wagner. He was also a close friend of French sculptor Auguste Rodin. Much of his early work indicates his admiration for Rodin's expressive style. In his Well of Life (1905), for example, figures crouch and twist their bodies unnaturally around a well, creating a sense of emotive drama. This piece was Meštrović's first big break: being exhibited in the Secessionist exhibition of 1906 and subsequently purchased by the city of Zagreb in 1910. It was installed in front of the Croatian National Theater, where it still stands today.
Meštrović created work that engaged elements of classical and archaic sculpture. He became an international sensation when, in 1911, he won first prize for sculpture at the International Exhibition of Art in Rome for his "Kosovo Fragments." This group of monumental sculptures, together with plans for a grand temple, commemorated the heroes of the legendary Battle of Kosovo. He drew from a variety of sources, including Assyrian and classical Greek art, to create a fresh and distinctive style that delighted the public.
Though generally recognized for his sculpture, Meštrović was also a noted architect. He is responsible for the Meštrović Pavilion, a round exhibition hall in the center of Zagreb, which is today the seat of the Croatian Association of Visual Artists (HDLU), as well as his family mausoleum in Otavice, the Račić mausoleum in Cavtat, and his residences in Zagreb and Split.
Unlike most canonical artists of early to mid-twentieth century, Meštrović never strayed from creating representational work, aiming instead to create timeless and accessible art. As interest in abstract expressionism took hold in the United States and beyond, this is perhaps the reason that his work fell from discussions of modern art.
As a political activist he worked to promote South Slavic unity, however following World War II he refused to live in Yugoslavia under communism. After being invited to live and work in the United States, Meštrović taught sculpture at Syracuse University from 1946-1955 and at the University of Notre Dame from 1955 until his death in South Bend, Indiana, in 1962.
Today, several museums hold Meštrović's work, and his public sculpture can be found in Europe and the United States. Some of his most well known sculptures in Croatia include a portrait of the inventor and scientist Nikola Tesla, who was a friend of the his, and the towering likeness of Gregory of Nin (1929) that stands outside Diocletian's Palace in Split. Meštrović's most iconic work in the United States is The Bowman and The Spearman (1926-1928), the famous pair of equestrian statues that guard the entrance to Chicago's Grant Park.
Written by: Elaine Ritchel (@elaineritchel)