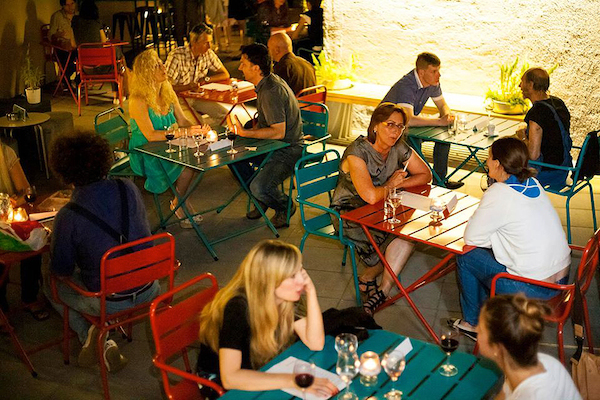 Using her own observations, experiences, and behaviors as a point of departure, artist Martina Miholic seeks to establish and cultivate connections through research and collaboration, making work that is both introspective and outward-looking. The London-based artist, who obtained an MA in Fine Art at Central Saint Martin's College, locates a source of contention or discomfort, often associated with identity construction and perception, and assembles a community around it. For Miholic, it is important not just create work that speaks, but that people want to listen to and participate in.
Can you tell us more about identity as a major concept in your work? 
I use the method of personal bareness and the dismantling of a subject's position to subject the way stereotypes, prejudices and communication junctions are formed. I am interested in an analytic approach in recreating one's identity, and its confrontation and reflection in a never static social environment. I create a platform in order to question the system, language, and codes we use to define our own or someone else's identity.
In Tagbox/Pride and Prejudice, for example, I subjected myself to an experiment by sending an electronic questionnaire to friends and acquaintances with questions like: "quote a dozen characteristics that would describe me." Driven by a desire to analyze and deconstruct our outer shield, which can simultaneously attract and reject us from others, I was confronting myself in other people's eyes.
Do you aim to communicate a specific message about such problems or have a particular outcome in mind for each project?
Only people themselves can change their behavior, but art should have and does have an important role, in terms of scanning, articulating and tirelessly promoting detected problems. Art should raise awareness and create a climate in which changes can happen. That should be core utility of the art I'm doing. I am interested in that kind of art that doesn't preach, but communicates normally with other people. I would like people to get something from it. I wouldn't like to waste anyone's time.
What is the significance of collaboration for you?
Most of my works and their processes are interactive. As a method of conducting research, I use interviews, surveys, e-mail correspondence. Once I collect enough information, I think about how to channel, balance, tune, and transform it and find the best way [to make it] resonate together. Communication is a very important part of my art practice, to create a fertile field for the emergence of new ideas, new questions, and conclusions. Ultimately, more brains are always smarter than one.
How has the transition from Zagreb to London affected your work?
Since I moved to London, I have noticed a common thread, link, preoccupation in the last few works, and that is the need to invade or appropriate the new environment with an existing hierarchy and set of rules to which someone needs to adapt and obey. I'm interested in how to be successful in a new situation, culture, and environment. Does it depend on one's ability to understand, adopt and then possibly subtly change her new environment?
For example, in The Balkan Bride's Project, which took a part in Hoxton Gallery in collaboration with two other Croatian artists, Petra Mrša and OKO, I was subjecting the correlation between a traditional wedding, where the bride moves to her husband's house, and the position of the artist as an emigrant.
What projects are you working on now? 
My recent show at Gallery Karas in Zagreb, Ambitious Toys, included visually and sensually saturated work, with an overabundance of visual and not-just-visual stimulants. The show was based on the notion of "toys" as objects for discovering identity, relating to the world, learning cause and effect, exploring relationships, practicing skills, and forming and strengthening social bonds.
Additionally, I will continue with Artist Speed Dating (feature image), an ongoing interactive project that brings together local artists, curators, community members and visitors in the popular dating form. The aim is to familiarize people with cultural and political ideas coming from their local community, through direct contact. The next destination is a suburban area of Zagreb, and it will touch on the problem of urban planning policies and the content of the new built environment, as well as the notion of public good and new models of living in completely designed and constructed residential areas.
Interview by Elaine Ritchel