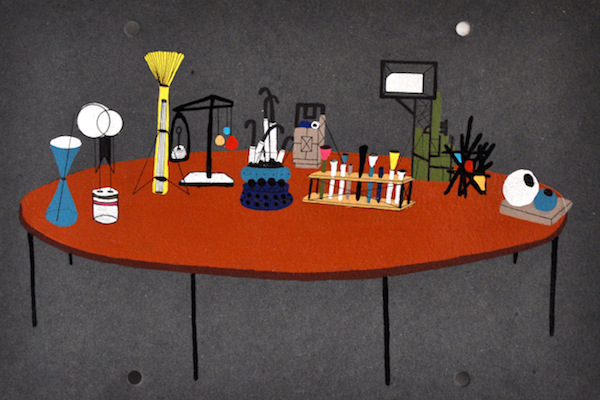 Pulse Contemporary Art Fair, New York City, May 8-11, 2014 
Ikon Art Foundation  is pleased to announce the successful presentation of Croatian multimedia artist Marko Tadić (b. 1979) at PULSE Contemporary Art Fair, in New York City. Ikon Art Foundation shown at the fair as part of the POINTS special exhibition, curated by the fair's Director. Marko was selected as a finalist for this year's Pulse Prize, garnered positive press coverage in The Art Newspaper and was featured in ArtInfo's New York Art Fairs edition.
Tadić's most recent series, Accumulation of Images from Below, incorporates drawing, painting, collage, and animation. In relation to this work, the artist states that "thinking and rethinking is the most important thing for us… my work is a sort of practice for the mind and fertile ground for the development and revision of present and past ideas and events… a sort of accumulation, from which ideas derive by themselves, never intentionally, because of its clear and simple process".
A small selection of Marko's work is shown below. For further information about purchasing 2-D work from Marko Tadic's latest series and animations shown at Pulse NY, please contact Linda Mateljan at Ikon Arts Foundation.
Marko Tadić has previously exhibited at numerous solo and group exhibitions in Zagreb, Vienna, Ljubljana, Kassel, Berlin, and Los Angeles. He received the 28th Youth Salon Award for Drawing (Zagreb, 2006) and the prestigious Radoslav Putar Award for young Croatian artists (Zagreb, 2008), as well as participating in various study programs: 18th Street Arts Center, Los Angeles, USA (2008); KulturKontakt, Vienna, Austria (2008); Radoslav Putar ISCP, New York, USA (2009); Kultur Bunker, Frankfurt, Germany (2010) and Helsinki International Artist Programme, Helsinki, Finland (2011). Marko lives and works in Zagreb, Croatia.
About PULSE New York City 2014
PULSE Contemporary Art Fair is the leading U.S. art fair dedicated solely to contemporary art. Through its annual editions in New York, Los Angeles, and Miami, PULSE provides a platform for diverse galleries to present renowned and pioneering contemporary artists, alongside an evolving series of original programming. Th fair will also present it's signature IMPULSE, PULSE Projects, PULSE Play, and PULSE Presents series of special installations, screenings, and large-scale artworks.