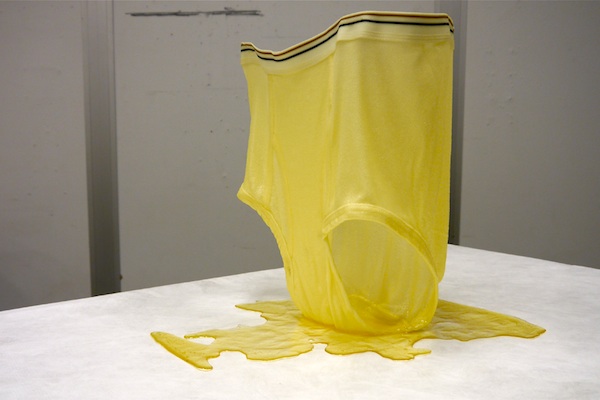 In 2011, artist Marko Marković headed to New York City for a two-month residency at the International Studio & Curatorial Program funded by the Radoslav Putar Award, and he ended up staying. Since then, he has been actively developing his own work while running international art programs, such as Days of Open Performance, and working as an assistant in the Matthew Barney Studio. While there are common threads running through his work – it is often politically engaged or meditates on aspects of human nature – it is also unexpected, driven by a need to explore, experiment, and collaborate.
Your work often offers social commentary. How does this relate to your priorities as an artist?
Everybody has the obligation to act and point out certain circumstances and situations in his or her environment, especially when it comes to social injustice and irregularities in the system. I think of art as a tool that can change or even prevent different failures in society. This concept has an important role in my work, and with different techniques and tactics, I am researching, questioning and looking for answers to interact with people. It is important to offer the viewer or the participant an experience and provide questions that can influence a person's state of mind. For me, it is important to experiment, construct and deconstruct, more than to implement a final product. It is important that there is a constant change to avoid stagnation and to challenge the status quo.
Much of your work is even shocking or causes discomfort. Is shock value important?
Shock is a very good and healthy parameter that can provoke and show you different reactions. These types of reactions are feedback [that help you] locate the problem that you can work on. When somebody is shocked or feeling discomfort, you are giving him or her a chance to ask why that is and to evaluate themselves and others.
How has the move from Croatia to NYC influenced your work?
During [my residency], I focused on U.S. reality and especially on what was happening on the streets of New York. I created a serial of performances and a short film, American Spring, which was shown in different venues such as the Rhode Island International Film Festival and Anthology Film Archive, the prestigious institution founded by Jonas Mekas.
Life in NYC has influenced my work as I have had the opportunity to work with great artists and get to know different people. I would say that it is important to travel and experience the varieties of cultures/mentalities and to build a personal experience on that as well.  The European scene is also important to me and many of my artworks are coming from parts of the world that are under pressure in terms of politics and economy.
And your work at the Matthew Barney Studio? How has that experience shaped your work and your evolution as an artist?
Matthew Barney is one of the rare artists who can go beyond art itself. The MB Studio is a place where imagination becomes reality. It was magnificent to work on the film-opera River of Fundament and to see what you couldn't imagine even in your wildest dreams. While working in the studio on different projects, I had the feeling that I was in some surreal movie, working on sculptures and strange objects within a durational performance. The process of making, and the time dedicated to creating certain fragments, has a big role in the energy levels that I have experienced in this form of art.
At the MB studio, I have worked with great people and artists that I admire and have big respect for. I think of the team as true magicians and craft makers within the spheres of today's art world. Because of this, I decided to put up the show The Crew, where artists and assistants from Matthew Barney Studio are presented. We had the first exhibition of sculptures, drawings, paintings, installations and videos in May 2014. The concept was to present the artists as individuals but also as a crew – a team that works and creates together. In the upcoming show at Court Square Studios and MC Gallery in September 2014, the main focus will be on performances, where the audience will see and be involved in live art – body, sound and time.
You work with a variety of media – typically with performance, more recently with sculpture. What form do you expect your work to take in the future?
I have the opinion that one media fulfills the other media and that one cannot function without the other. My background is in painting and drawing, installation-video-performance-happening, and music. I work in different types of media depending on what I want to say.
I did some sculptures recently, and I was working with different materials that were new to me. I plan to do more [of that], as I found it very interesting and hard in terms of going through the process, overcoming obstacles and managing materials – just like performance. I am shooting a lot with my camera, and I have plans to do a new film that will speak a global language and also describe some interesting personal journey that I have confronted myself with.
Performance art is the media that takes most of my attention. Now I am dealing with performance as a technique that transmits energy and frequencies from one body/person on to the other. In order to level out those conditions, I plan to work on different performance aspects.
Interview by Elaine Ritchel