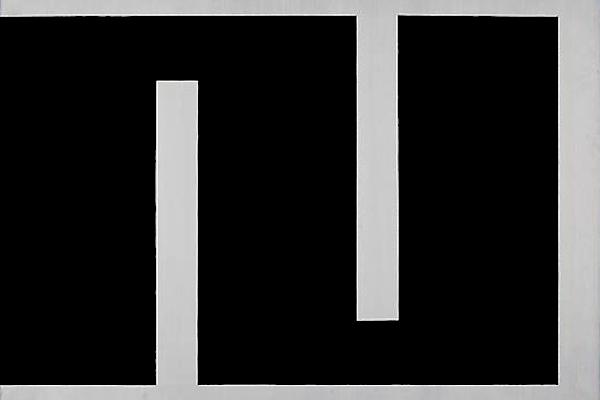 In our conversations with artists, we always enjoy hearing about their favorite subjects or themes, in large part because there is so much possibility and potential for creative work. Indeed, many artists revel in freely exploring new methods, media, technologies, and ideas, revealing notable versatility. For them, devotion to a particular subject or concept can be limiting. This is perhaps one reason the work of Julije Knifer, one of Croatia's most iconic artists, is so extraordinary. For more than four decades, Knifer committed himself entirely to one geometric form and found expressive freedom in doing so.
A graduate of the Academy of Fine Arts in Zagreb, Knifer actually began creating representational work. It was through a series of self-portraits that he came to the idea of abstraction, of reducing reality to one form to which he would devote his artistic practice. What Knifer realized, looking at his multiple self-portraits, was that they were no longer figurative representations of himself, but rather "one monotonous rhythm" that spurred his desire to create a continuous body of work rather than single, self-contained works of art.
His chosen form, the meander, communicates both the rhythm that attracted Knifer and the idea of continuity that he sought. Although he did, in fact, create several individual works of art using this form, its simplicity and repetitive movement creates a sense of harmony that unites his entire body of work.
Over the years, he did introduce some variations in approach to his work: he experimented with various formats, including murals and site-specific work. In the late 1960s, he introduced some color into his black-and-white palette. Occasionally, his meander took on a slightly different appearance as he played with geometric arrangements, but he never strayed too far from its basic form. Ultimately, the meander became not just a preoccupation for Knifer, but a symbol associated with his work and legacy.
Through his involvement in Gorgona, an avant-garde group active in Zagreb from 1959-1966, and his participation in the New Tendencies movement of the 1960s and '70s, Knifer encouraged the development of modern and contemporary art in Croatia. Before his death in 2004, Knifer represented Croatia in the 2001 Venice Biennale, and he exhibited at the Sao Paulo Biennial, the Centre Pompidou, and the Museum of Contemporary Art in Sydney. A comprehensive retrospective of his work is slated to open this year at the Museum of Contemporary Art in Zagreb.
A selection of Knifer's paintings and works on paper from the early 1960s to 2000 is currently on view at Mitchell-Innes & Nash in New York City. The exhibition is the first solo show of Knifer's work in the United States and will be on display until March 16, 2014.
Written by Elaine Ritchel (@elaineritchel)
Image source: Mitchell-Innes & Nash, NYC.