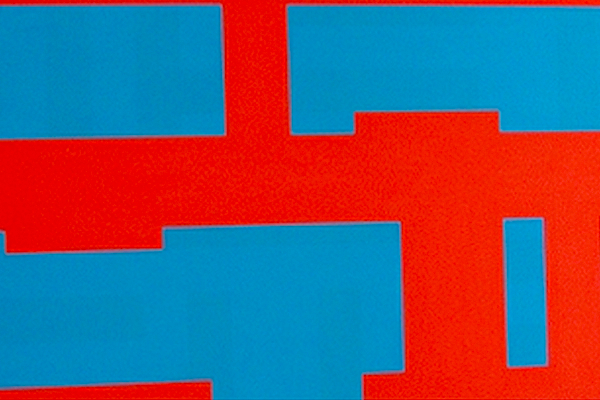 Primarily a painter, Edita Schubert (1947-2001) assumed an experimental stance, investigating the qualities, possibilities, and limitations of painting and the potential of extending it to other modes of expression, such as installations and conceptual projects. Although still relatively unknown internationally, she is recognized locally for her significant contributions to Croatian art.
Having graduated from the Zagreb Academy of Fine Arts in 1971, Schubert's artistic career began in the early '70s with a series of hyperrealistic paintings. Most of these featured everyday objects, for instance a tube of lipstick or a summer dress. Schubert's interest in objects heightened after she photographed the cupola of a school in Počitelj, Bosnia. Struck by the form of the cupola, she objectified it by isolating it, repeating its printed form, and sculpting it, presenting it as a simple hemisphere rather than as a component of something larger and more complex.
In the late 1970s, Schubert began experimenting with the traditional surface of painting itself: the canvas. In her Self Portrait from 1977, she photographically documented the process of cutting a triangular hole into a stretched canvas and positioning various body parts and other objects behind or through it. In 1978, with Long Line, she tightly wound raw canvas and twisted it into a ball, effectively sculpting a three-dimensional object from a material typically reserved for creating two-dimensional representations.
Schubert once again focused on painting during the 1980s. Her black canvases from the first half of the decade feature expressive, organic forms in rich, earthy hues. In the late '80s, Schubert turned to geometric abstraction, exploring the expanse of the canvas and the boundaries set by the frame through areas of bold color. In her monograph on Schubert, Leonida Kovač suggests that in this phase, Schubert was concerned with the "anatomy of the canvas." Slowly, first with collage and then with painting, these abstractions began to transform into patterns of vertical lines, morphing further into individualized barcodes with Schubert's increasing interest in questions of identity and biography. In her untitled installation from 1996, six different self portraits, illustrating the artist in six different moments, are encircled by a printed barcode running along the surrounding walls, alluding to questions of individuality, perceived identity, and representation.
Schubert received awards at the 10th Youth Salon in 1978 and the 12th Youth Salon in 1980, and in 2000 she was the recipient of Vjesnik's Visual Arts Award. In 1982, she participated in the Sydney and Venice Biennials. While Schubert was not directly associated with one particular group or movement, her experimental approach and investigations of art making, the creative process, and identity aligned with the concerns of artists active during the 1970s and 1980s both in Croatia and internationally.
Written by Elaine Ritchel
Image source: Vitrovica City Museum and Vitrovica.net