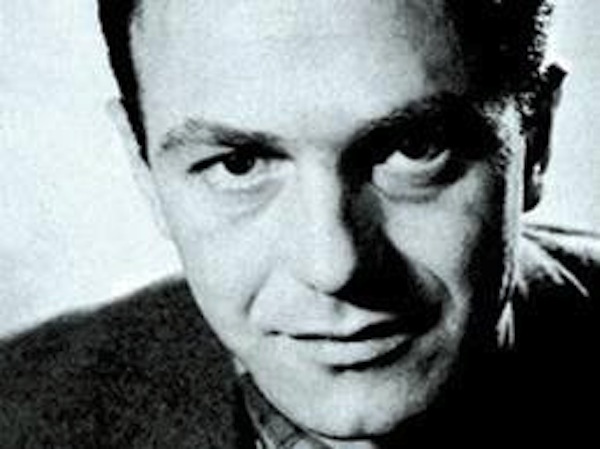 Today most film critics agree that Branko Bauer was one of the most important directors in Croatian history; however much like Nikola Tanhofer, he has only recently experienced critical reevaluation.
Born in 1921 in Dubrovnik, Bauer moved to Zagreb shortly thereafter where he began his film career in 1949 as a director of documentary, news and short fiction films. In 1953, Bauer directed his first feature-length film, Sinji galeb (Blue Seagull). During this time, filmmakers were increasingly reexamining the war experience and its repercussions. Bauer's third feature, Ne okreći se sine (Don't Turn Around, Son) from 1956, explored the tragic human dimension of war and the met widespread critical acclaim. The film tells the story of a resistance fighter who, after escaping a train headed to Jasenovac, returns to Zagreb to join the partisan army and find his son, only to discover that the boy is in a fascist orphanage. Film critic Jurica Pavičić names the film as one of Bauer's best, as well as the best Yugoslav war film of the 1950s.
"In the period of his major works, from the mid-50s until the mid-60s, Branko Bauer was not only the best Croatian, but the best Yugoslav film director," says Pavičić. Slovenian film historian Stojan Pelko once wrote that Bauer's role [in Yugoslavia] was similar to the roles of Howard Hawks or John Ford in Hollywood: he was a supreme master of the classic narrative style – an excellent storyteller who was capable of working in different genres (melodrama, thriller, comedy)."
Other notable films include Lice u licem (Face to Face), the first political film in Yugoslavia, about a construction worker who confronts his manager at a Communist Party meeting, and Tri Ane (Three Girls Named Anna), the story of a man who discovers that his daughter, who he believed to have perished in the war, may in fact still be alive. Three Girls Named Anna, says Pavičić, is "a superb example of the neorealist method, a deep film which discusses post-war sorrow and losses, [and an] almost encyclopedic description of Yugoslavia in that era, from top to bottom."
"Bauer is classical storyteller," adds Pavičić. "He worked very neatly in the screenwriting phase, and as a director he was a minimalist, trying to serve his story and characters. His recurring topic is a motive of decency: of (usually middle-class, often elderly) citizens who, in complex moral situations, try to do something that is as honest as possible. Although a communist filmmaker, Bauer was a director of 'bourgeois,' old-fashioned morality." Sadly it was precisely Bauer's narrative approach, his strength as a storyteller, which contributed to his relative obscurity after the mid-1960s. "When modernists finally prevailed in Yugoslav cinema around 1965, the change was abrupt and complete," explains Pavičić. "Old classic masters had to adjust or to stop directing. Bauer tried to adjust, but that was not his game: his modernist films are weak. He quit cinema, moved to television and produced two absolutely brilliant TV series, Salaš u malom ritu and Wintering in Jakobsfeld in Vojvodina, Serbia".
"How Bauer presents the German minority in Vojvodina in Jakobsfeld – that's an example of his culture of respect, decency and understanding," he adds.
Bauer's last feature film, Boško Buha (1978), did not receive the widespread acclaim of his previous films, but it did significantly impact popular culture. It was this film that prompted artist Renata Poljak to track down the lead actor for a three-part video project that investigates the images and ideas that defined her childhood.
Unfortunately, Bauer was never able to successfully break back into the film world. He would not make another feature film before his death in 2002. More recently, however, critics have begun to revisit his films and reintroduce them as valuable masterworks that significantly contributed to feature film production in Croatia.
Written by Elaine Ritchel (@elaineritchel)
Image source: TPortal.hr