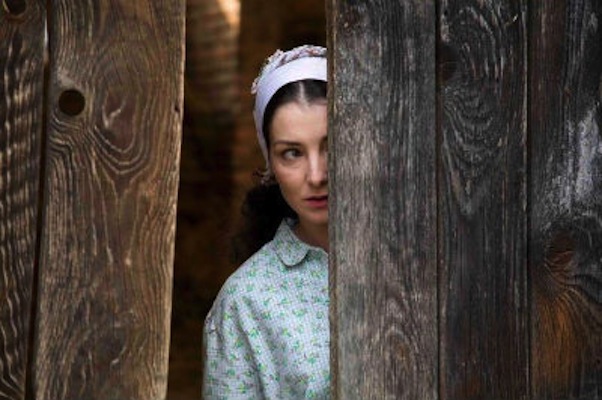 Croatian filmmaker Arsen Anton Ostojić is the director behind some of the most popular Croatian films of the last decade. A Wonderful Night in Split (2004), a black-and-white homage to his hometown, received a total of 24 national and international awards, and No One's Son (2008), his second feature-length film, was named one of the best European films of 2009 by the European Film Academy. Ostojić is once again enjoying international acclaim for his most recent feature, Halima's Path. The story of a woman searching for her son in the aftermath of the Bosnian war, the emotional drama has received 17 awards and counting. We recently caught up with Ostojić to find out more about his love for film and the stories he tells on screen.
Tell us a bit about your background. How did you decide to become a filmmaker?
When I was 12 years old, I enrolled in the cinema group of my grammar school. I started to make short films with my school friends, and this hobby became my passion and my career.
Later, I enrolled in the Film and TV Directing Department of the Academy of Dramatic Arts in Zagreb, and after I got my BA degree, I went on the Graduate Film Program of the Tisch School of the Arts at New York University. I spent many years studying, learning and working as an assistant director before I shot [my first feature film] at the relatively late at the age of 39.
Are there any Croatian filmmakers or films that you find especially influential or inspirational?
I never saw myself following one particular director, but my teachers at the Academy of Dramatic Arts were top Croatian directors: Ante Babaja, Dušan Vukotić, Krešo Golik, Zvonimir Berković. I assisted Rajko Grlić on two of his well-known films, and . . . I occasionally have a coffee with Veljko Bulajić, one of the best directors of the former Yugoslavia. I hope to be "infected" with some of his energy and enthusiasm!
As a director, what are some of your values or goals when making a film?
Well, there is always one paramount goal: to make an emotional film that can grab audiences. Everything we do in film is to create some sort of emotion. Mediocre directors can't achieve this, and the audience is able to recognize this immediately. My values are love and appreciation of life. I hope to be able to make films about love until the end of my life.
What inspired A Wonderful Night in Split, your first feature film?
I had always wanted to make a film about my hometown, Split. I had some bits and pieces of several stories in my mind, until one day I had a moment of inspiration to put those stories together and to frame them with New Year's Eve. It was probably the easiest script I've ever written, and definitely my best original script.
Scene from A Wonderful Night in Split (2004) w/ Coolio and Marija Skaricic
One of the film's leading roles was played by Coolio, who is something of a legend. What was it like working with him?
He was great. He didn't behave like a star at all. He was one of us, belonging to a group of indie filmmakers who were trying to make something happen during 32 nights of shooting in Split. His performance was exactly what I wanted; he was right on target, and I am still grateful to him for coming to Split and for trusting me, and my vision.
Your most recent feature, Halima's Path, has already received several awards. Tell us a bit more about this film and why you decided to make it. 
Halima's Path has already had an exciting run. The film has participated at 12 competitive festivals and it has received 17 awards, and it will be shown at 15 more festivals in September and October alone. Although it is a tragedy, it received the Audience Award with the highest score in the recent history of the 60-year old film festival in Pula. The same thing happened in LA, as well. This is exactly the reason I decided to make it: I felt it was an emotional, sincere and authentic script that tells a truthful story from the Bosnian war. It is a story about us.
Your films have been screened in both Croatia and the US. Do the responses to your films differ in these two countries?
Somehow I am managing to create films that work well with any audience. It is all about emotions, and about effective and clear storytelling; the viewers can recognize this. My first two films were Croatian candidates for the Academy Awards; Halima's Path is my third film and the selection process for the Croatian candidate will start next month. Let's keep our fingers crossed!
What about the film scene in Croatia? Are there any major advantages and disadvantages?
The main advantage is the fact that there is a well-functioning Croatian Audiovisual Center which finances Croatian film. Comparing the film industry in the States with the one in Croatia, I can't help thinking about how lucky Croatian filmmakers are for having a government body that gives them money to film whatever they want, without any obligation.
What new projects are you working on now?
I actually have several ongoing projects: some American, some European, some Croatian, of different genres – from psychological thrillers, dramas, science fiction films for children, and horror films to historical spectacles.
Do you have a dream project or story that you'd love to film in the future?
All of those I just mentioned! But, luckily, I don't have one dream project. Otherwise I'd keep on chasing one dream project while neglecting the others. And what I am supposed to do after I shoot my dream project? So, all my projects are my dream projects. I do dream about filming them.
Scene from No One's Son (2008) 
Interview by Elaine Ritchel (@elaineritchel)