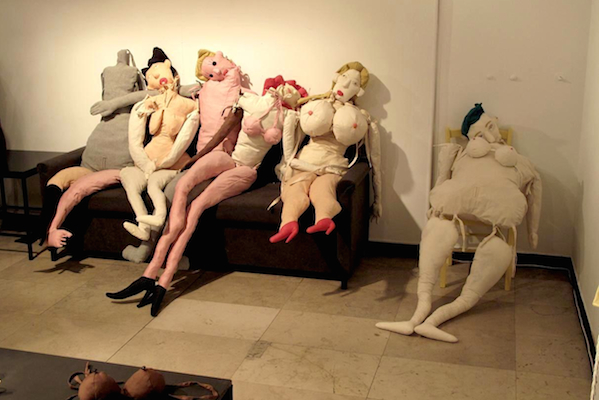 Many artists deal with identity and issues surrounding the body in contemporary culture. Ana Horvat does it with hand-crafted, oversized and exaggerated plush dolls, giving these concepts tactility and a visual punch. Horvat, who graduated from the Academy of Arts in Zagreb in 2003, made her international breakthrough with Before and After, a video of a liposuction procedure "performed" on a life-sized plush doll that won the T-HT Award in 2008 and was subsequently exhibited at PS1 in New York.
Horvat's work often incorporates collaboration and audience participation, such as the installation/performance Tabula rasa, held at the Zagreb Student Center in 2008. The gallery was equipped with three tables holding pencils, markers, paint, yarn, construction paper, and other crafty supplies. On the walls hung white plaster reliefs of a generic, stylized human figure made by Horvat – a blank slate. A note on each of the tables instructed participants to help themselves to a blank relief and decorate it however they wished, giving life, an identity, and perhaps even something of themselves to the white reliefs.
For Custom Made, Horvat created several plush body parts of various sizes and shapes displayed together as a macabre pile of plush, pillowy arms, legs, torsos, and breasts, and viewers were invited to dig in and piece together a Frankensteinian doll using the body parts of their choosing. Collaborative works are almost always a delight for viewers – it's always fun to be able to touch the art, and often, the experience is deep and rewarding – but by making participatory work, the artist is essentially allowing others into her space. When Horvat invites viewers to participate, she is inviting them to investigate the idea of body or identity and also to toy with and alter her work, emphasizing the vulnerability of those manipulated bodies, of her art, and of herself.
More recently, Horvat has stepped away from her focus on the body to explore other stories through animation. Her first animated film, Little Red Riding Hood, Once Again (2012) was screened this year at Tricky Women 2014, which features exclusively animations by women. The lighthearted, brief animation introduces a Little Red Riding Hood who is so enchanted by the forest around her that she completely ignores the wolf. Horvat's other animated work suggests an interest in childhood stories and the simple forms of children's drawings, such as basic shapes, scribbles, and stick figures.
Lice Ruke, a video work made this year, shows the artist staring at the camera and touching different areas of her face. It's a very short work, a sketch of sorts, that perhaps signals a return to work that deal more directly with the body.
Written by Elaine Ritchel