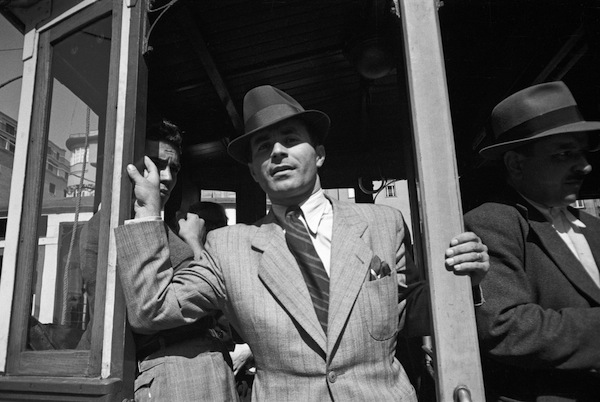 Tošo Dabac, one of Croatia's most widely recognized and versatile photographers, was a significant figure in the development of Croatian photography. Known for his artistic documentary style, Dabac gained fame for his images of daily life in urban Croatia.
Born in 1907 in the small town of Nova Rača, Dabac moved to Zagreb to study classic languages and later law. He first discovered photography at the age of 17 while visiting a schoolmate in the town of Samobor, and his first photograph – a panorama of Samobor – was taken the following year, in 1925.
Having started working for Fanamet Film and later at Metro Megafon magazine, he abandoned his law studies to focus on more creative pursuits. In 1929, he directed the film sketch Vodica za Kurajžu (Water for Courage). Simultaneously, he continued taking photographs, and he publicly exhibited his work for the first time in a small amateur exhibition in 1932. The same year, he began working as an assistant to Đuro Janeković, one of the first photojournalists in Croatia.
This position marked a turning point in Dabac's career and photographic development. He began documenting scenes of everyday life in interwar Zagreb, compiling a series of photographs that would come to be known as Ljudi s Ulice (People from the Streets).
Pictured are crowded trams, locals drinking coffee together under colorful, striped umbrellas, and smartly dressed women in seamed stockings walking dogs, as well as portraits of Zagreb's less fortunate classes.
Dabac's interest in photographing candid scenes of city life was very much engaged with international trends in photography. In Europe and the United States in particular, many photographers became interested in (or were assigned to) documenting every day life – but they enlivened their work by giving it distinct artistic overtones through technique, composition, and subject.
Dabac's background in photojournalism coupled with an undeniable aesthetic sensitivity allowed him to faithfully record the city, but with an affectionate eye that makes even the most mundane scenes attractive. Skilled at honing in on unexpected details and capturing moments, Dabac presents ordinary events in an almost glamorous light.
Contributing to the artistic feel of his photography, Dabac often experimented with composition by shooting from various vantage points. One of his most famous photographs, On the Way to the Guillotine (1932-33), depicts a man leading a horse past the Croatian National Theater. The horse's slender legs are at eye level, suggesting that Dabac crouched down to capture the image. He takes a similar stance for Seamed Stockings (1936), giving us an unusual view that transforms ordinary details – a skirt, stockings, an absent-minded gesture – into an unexpected point of interest.
Dabac's favorite camera may have been partially responsible for his unique perspective. According to Daniela Bilopavlović Bedenik, curator of the Tošo Dabac Archive, Dabac liked to use a Rolleiflex – a twin-lens reflex camera that allowed him to shoot at waist level.
Dabac's street photography brought him significant recognition. Over the next several years, he exhibited in many international exhibitions and contributed his work to a number of publications, including Jugoslavija magazine.
In 1933, he exhibited at the second International Salon of Photography in Philadelphia, and in 1937, he noted photographers such as Edward Steichen, Brassaï, Man Ray, Alexander Rodchenko, and Ansel Adams at the San Fran­cisco Invi­ta­tional Salon of Inter­na­tional Pho­tog­ra­phy. He also exhibited in Boston, New York, Tokyo, Frankfurt, and Antwerp, among other international destinations.
Dabac received numerous awards for his photography throughout his life, until his death in 1970. Recently, several of Dabac's photographs were selected for inclusion in the exhibition Croatian Photography Through the Eyes of Peter Knapp, organized last year in conjunction with the French festival of Croatian culture "Croatie la Voici". The exhibition displayed at the Museum of Arts and Crafts in Zagreb in early 2013.
Today, his studio in Zagreb at Ilica Street 17 houses the Tošo Dabac Archive, one of the most extensive photographic collections of its kind. The archive includes some 200,000 negatives, 2,000 vintage prints, original photographic equipment, and a library.
In celebration of Dabac's dedication to photographically representing city life in Zagreb, the Archive has created ZGB Art Web Gallery, a collaborative project that aims to compile the work of artists whose work celebrates Croatia's capital.
Written by Elaine Ritchel (@elaineritchel)
Images courtesy of the Tošo Dabac Archive (Museum of Contemporary Art Zagreb / City of Zagreb)