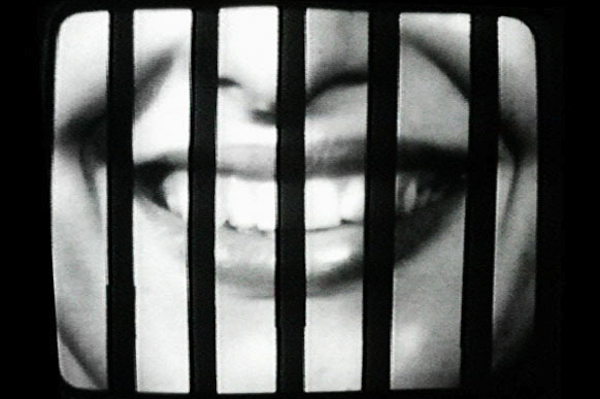 Unknown Heroine, the first exhibition of the work of seminal artist Sanja Iveković in the United Kingdom, is on view at Calvert 22 and South London Gallery until February 24. The retrospective exhibition covers four decades of the Croatian artist's work. 
Its title refers to one of Iveković's recent projects – a proposal to rename a city street in Utrecht after the Unknown Heroine – and perhaps alludes to her own relatively recent recognition in the international art world.
Working across media, from photography and collage to video and performance, Iveković has probed divisive issues concerning political power, consumerism, historical amnesia, women's rights, and questions of female identity since the 1970s, before feminism even surfaced in Yugoslavia.
There, after completing her degree at the Zagreb Academy of Fine Arts in 1971, she joined other artists moving beyond the institutional and traditional confines guiding artistic production and pioneered new art forms, such as video and performance art, in a generational movement known as New Artistic Practice (Nova umjetnička praksa).
Sweet Violence (1974), the earliest work on view in Unknown Heroine, is a short video recording of an economic propaganda program that was regularly broadcasted on national television in Yugoslavia. Iveković altered the recording by placing black bars on the television screen to delineate the space between the sender of the message and its audience, a gesture that questions the division between public and private space and dispels the seductive power of the media.
Her most well known performance from this period, Triangle (1979), further demonstrates the blurred boundary between public and private space in Yugoslavia. During one of Josip Broz Tito's visits to Zagreb, Iveković took a seat on her balcony and pretended to masturbate while reading Tom Bottomore's Elites and Society and sipping whiskey.
At the time, a strict law prohibited the residents of Yugoslavia from occupying their balconies while Tito paraded through town. Minutes into the performance, a policeman, having been tipped off by surveillance atop a nearby high-rise hotel, knocked on Iveković's door and ordered her inside, thus completing the three-person triangle.
Iveković cites 1989 as the year that marked a major shift in her work. Moving away from her practice of "illustrating" political context, she sought to make her work even more politically direct through participation.
Women's House (Sunglasses), an ongoing project started in 1998, is a result of this shift in approach. Working with shelters for victims of domestic violence, Iveković guided the women in creating plaster casts of their own faces and asked each participant to write down her personal story. Displayed together on pedestals, the masks and their accompanying texts mimic ethnographic museum displays, a conscious decision meant to reintroduce real women whom society tends to regard as "the Other."
In the second part of the project, Iveković pairs advertisements of models wearing expensive sunglasses with captions that tell the personal stories of domestic violence. In an act of appropriation, Iveković subverts images of media glamour to remind us that some women don sunglasses for more tragic reasons.
Committed to art's political potential and its power to effect social change, Iveković works with a number of organizations and situates herself in the intersection of art and activism. Among other engagements, she founded the Electra Women's Art Center in Zagreb and helped found the Zagreb Center for Women's Studies in 1995.
A celebrated protagonist in the development of contemporary art in Croatia, Iveković has also participated in numerous exhibitions and residencies worldwide. In 2009, a retrospective of her work was held at BAK in Utrecht and the Van Abbemuseum in Eindhoven, and in spring 2012, MoMA New York followed suit.
In London, the bi-venue retrospective Unknown Heroine offers a solid and thorough introduction to Iveković, covering four decades of her work. While South London Gallery houses work on a range of themes, Calvert 22 focuses on Iveković's experiences as an artist working in Yugoslavia and Croatia's transition from a socialist republic to a capitalist democracy.
Written by: Elaine Ritchel (@elaineritchel)