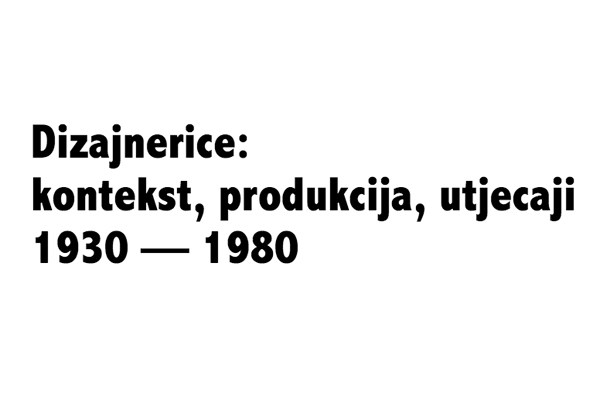 To highlight the contributions women have made to Croatia's rich design history, the 'Dizajnerice' [Designers] project presents the professional biographies of Croatian female designers from various disciplines. We speak to Maša Poljanec and Maja Kolar, of the Oaza collective, about the inspiration for this initiative, its evolution and vision for the future.
Can you tell us how the idea for the "Dizajnerice" project came about?
Being part of an all-female studio ourselves, we would often be confronted with commentary about the perspectives and principles of our work, and could not ignore the fact that most written historiographies of the design discipline in Croatia consist mainly of our male counterparts and contributions they have made, regardless the high numbers of currently active women in the field. You could perhaps say that the initial impulse for starting this "investigation" was pure curiosity about our forerunners, their number and achievements.
Have you collaborated with any institutions / organizations to develop the project?
Project was developed for Croatian Designers Association in Zagreb. One of their aims is reconstruction of initiatives and individual works of designers from the past, for the sake of building and elaborating a formal database of their inheritance.
During a period of one year we have undertook numerous interviews with disclosed authors, as well as progressed in getting in contact with several organizations and institutes whose archives were truly valuable to us and have provided fragments of which would turn into web content of this female design history archive (a complete list of institutes and organizations are listed below).
How did you select which designers to include? Was there a specific criteria?
The criteria for selecting these designers [included] the scope of their work and that these contributions, although unnoticed thus far, were done on a larger scale within either industrial plants, the cultural domain or in an educational field. Quite a few names appeared in our "analog" search, and this website represents our small contribution to some of them. Given the amount of documentation located on multiple sites, only 30 profiles are currently active. [We also took] into account the diversity of each individual story and possibility for its further extension. Our materials were not merely factual but included personal photographs, work sketches and test models of their work, as well as excerpts from their interviews or previously published research articles.
Were these women already well-known in Croatia, or did you have to uncover 'forgotten histories', so to speak?
Few of the selected women have been previously presented to the Croatian public through thematic or retrospective exhibitions. Since they haven't been reffered in this manner, we can say they remain depicted within the design field only. Sanja Iveković and Jagoda Kaloper are better known for their media art and performance engagements, but both have long standing careers done in publishing and graphic design. Ivana Tomljenović Meller and Otti Berger are notably Bauhaus pupils, with interesting life stories. Others currently presented through the website are far less well-known, and reconstructing their chronicles and records required some extra care. It feels rewarding to introduce them back and place them onto the timeline.
Our portrayal of them is earnest, it shows their methodologies as well as results, and is open for further research extension. The most interesting ones to us personally are those engaged in pedagogic work like Branka Frangeš Hegedušić, Neli Geiger and Milica Rosenberg, the ones with technical and engineering superiority of their time like Marija Jeličić Plavec and Jasenka Mihelčić, those which created strong individual expressions and visual languages through their designs as Milana Hržić Balić, Greta Turković and Jagoda Kaloper.
What has been the response to the project by the design community and public, in general?
Project was [launched] at the end of February this year, and its reception so far has been extremely positive, and what has proven to be most important – it has started a long-awaited debate around the notion of todays design history and possible (mis)interpretations of the future one created, not only by theoreticians, but practicing designers as well.
How do you see the project involving in the future?
Hopefully, the project will have more collaborators and contributors, and will evolve new materials. Updates will be oriented to fine tuning the currently information, gathering of all avaliable additional documentation and successively – its translation for foreign users.