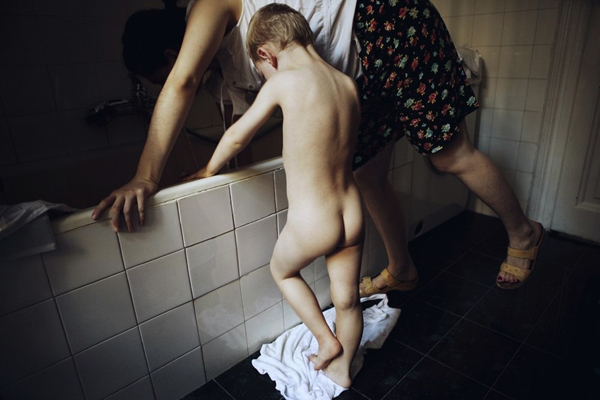 Both delicate and visually arresting, the work of emerging Croatian photographer Petra Mrša touches on themes of feminity, natural beauty, and intimacy.
"Nova škola (New School)," her most acclaimed series to date, follows a blue-eyed and rosy-cheeked toddler as he navigates daily life. He peeks into kitchen drawers, eats, bathes, plays, and laughs, and Mrša dutifully records his actions. Occasionally, she catches him gazing into the distance, surprisingly introspective, or wearing expressions of utmost concentration or frustration. Other characters appear throughout the series – most notably his mother, who is pregnant. Mrša invites us to join the two as they share moments of laughter, amusement, and potty-training victory. We are also, eventually, introduced to the young protagonist's new sibling, whom he approaches with a curious reverence.
Artfully captured at moments both expressive and mundane, these portraits investigate not only the relationship between mother and child and the everyday events of family life – they also challenge the idea of rosy childhood innocence and reveal the complex emotions already stirring within this young boy. Mrša's carefully composed photographs and sensitive use of lighting lend her images  cinematographic overtones, but their filmic quality is countered by a profound sense of intimacy. In fact, the subjects of the series are close relatives of Mrša: the young boy is her nephew, Lovra, the firstborn of her sister, Iva. According to Mrša, "Nova škola" centers on the theme of nurture – that is, the new school of upbringing that prioritizes positivity rather than punishment – and was prompted by her fascination with the commitment and passion her sister dedicates to motherhood.
| | |
| --- | --- |
| | |
With a more recent series, "Rijeka," Mrša departs from the figurative work that has defined her photography and instead experiments with photographic abstraction. Driven by the desire to create a direct and unhindered experience, the photographs in the "Rijeka" series prioritize color rather than recognizable forms, encouraging pure emotive responses to the work.
By exploring the unorthodox creative potential of the photographic medium, Mrša achieves almost painterly results, making marks that appear at times like smudged charcoal, at others like a wide brushstrokes or dripping paint. Flitting across the photographic surface, these marks create a sense of unifying movement. The title of the series is significant: "Rijeka" is both the name of Mrša's hometown – perhaps a nod to the purity of youthful emotion – and the Croatian word for "river."
Mrša studied sociology and social science at the University of Zagreb before enrolling in cinematography at the Academy of Art in Zagreb. She is currently a graduate student of photography. She has had one solo exhibition, has participated in around ten group exhibitions, and has won several awards. At the 2011 Rovinj Photodays festival, she won the "Nudes" category with a photograph from the series "Nova škola," and in 2012, she won first place at a photography festival in Savingano sul Rubicone for the same series.
View more of Mrša's work online at Galerija inkubator.
Written by Elaine Ritchel (@elaineritchel)
Image source: Croatian Photography and Galerija inkubator.