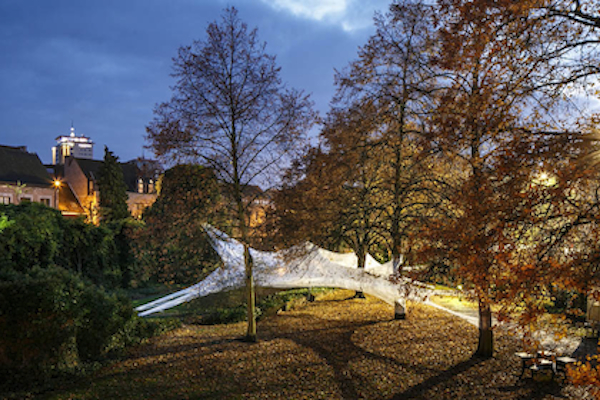 DESIGN collective Numen/ For Use inspired notoriety with their 2009 Tape installation. Now in 2012, Z33 House for Contemporary Art will reiterate the installation artwork for their tenth anniversary in Hasselt, Belgium.
Using thick transparent sticky tape the design collective continue on the series they initiated at Vienna Design Week three years ago. By stretching, sticking and wrapping thick layers of tape around grounded pillars, beams, trees or whatever standing objects exist in the chosen space Numen/ For Use create a web of tendon tunnels and spaces that can be accessed and crawled through, strong enough to carry human weight. From afar the installation appears like an interwoven structure of bending elastic pipes.
According to the design collective, the idea for the installation originated in a set design concept for a dance performance in which the form evolves from the movement of the dancers between pillars. This time at Z33 House for Contemporary Art Numen/For Use have applied their work to a collection of tall leafless trees, standing brittle in the chilling winter snow.
Z33 House for Contemporary Art aims to encourage visitors to see everyday things in a new way. Through their innovative laboratory they prefer to experiment with ephemeral exhibitions rather than maintain a permanent collection.
| | |
| --- | --- |
| Image of "Tape Hasselt" | Image of "Tape Hasselt" |
Image Source: Numen / For Use, photos by Kristof Vrancken
Writer: Sacha Vukic (@SachaVukic)