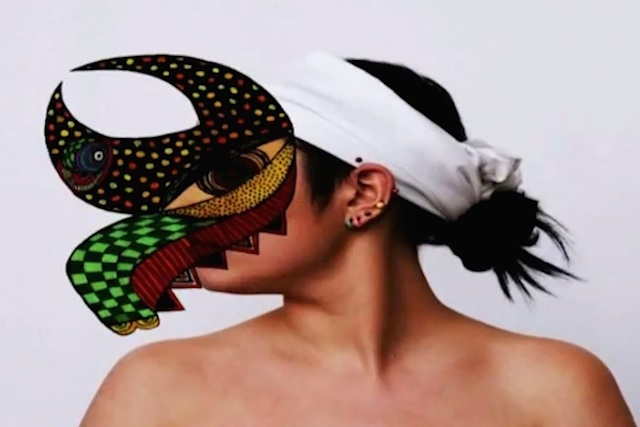 Ranging from intuitive sketches to geometric, op-art animals and photographic self-portraits superimposed with intricately drawn masks, the vibrant and pulsating work of Melinda Sefčić is intrinsically connected with her interest in art therapy. For Sefčić, who is currently completing doctoral studies in Zagreb, art is an important vehicle for self-expression, self-reflection, and self-healing. Here, she shares the motivation behind her work and discusses her role as both an artist and art therapist.
Can you tell us a bit about how your work has evolved over the past few years?
I see my work as my own transformation – it is all a reflection of my inner being. For me, life is movement – it goes from one point, wider and wider; from undefined to concrete and complex unity. So, the evolution of my work is closely linked with my own personal growth and development, both spiritually and consciously. That is one reason why I consider my art to also be my therapy, which can be shaped; it is an expression of pure spiritual emotion.
What inspired Mirror of My Soul, one of your most well known works?
The core of everything I do is self-healing. It belongs to a process of gaining self-consciousness through art. Art is primarily a form of therapy, and everything which later comes from that is the making of a creative spirit and idea. Basically, I see art as a form of auto realization and questioning myself.
I began to draw masks instead of "realistic" portraits so I could show how I feel, and not how I see myself. Through that I've tried to understand who I am and what I want. Each day I made several drawings, and each drawing was a representation of my current emotional state which, in the end, I tried to demystify, deconstruct and understand what lies beneath every mask, what causes such feelings and what they represented. Going deeper into the very idea, knowing my own self through these creations, naturally lead me to combine them with my physical portraits. It is in that process that a complete unity of mind and body occurred.
You mentioned the healing power of art. How did you become interested in art as therapy? 
I believe that art creation is a form of self-therapy. I can help people, especially children, to show how they feel – they can express themselves and by doing so awake inner suppressed feelings. Being an artist/art therapist arises from believing in what I do, what I am and what I want to be. Through that I want to help people to find the lost connection to their inner being.
How does your work as an artist contribute to your role as an art therapist?
For me, that is an unbreakable unity. From it and through it derives all. There are two directions in art therapy: one is art as therapy, and another one is art in the aim of therapy. I combine both. My PhD research is based on drawing as a reflection of the processes occurring in psychosocial functioning. It's carried out as a part of preventative group work with vulnerable children. My role is mostly focused on drawing, but at the same time I am also a participant of the group – I am simultaneously "teacher" and "beneficiary". I believe that being an artist and/or being a therapist are two sides of the same coin, and for me they cannot be separated.
Where do you see your work going from here? Are you currently working on any new projects?
In the near future, I primarily intend to focus on my PhD research. I am also going to Belgium for a one-month residential program, GLO'ART, and to Italy, where I will examine how a new environment affects me – how it is going to be reflected in my creations.
At the same time, I am working on several projects that involve cooperation with other creative branches (such as sound and 3D modeling). A new series of masks and visual illusion space conjunctions are emerging as well. But, my main preoccupation for the last month or two is direct 24-hour work with children and youth.
Interview by: Elaine Ritchel