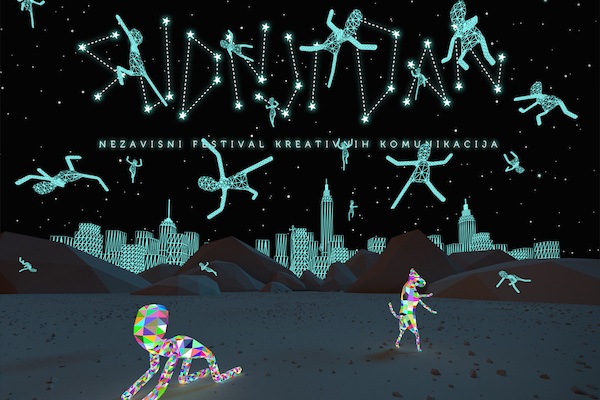 Marko Prpić goes by Zets, from the Croatian word for "rabbit." The exact reasons for this pseudonym remain a mystery, but seeing as he jumps from one project to the next with notable enthusiasm, the name is rather fitting. In addition to working as a freelance designer and artist – he is currently preparing for a trip to Pennsylvania where he will exhibit at IlluXCon in September – Zets also runs Boonika, a platform for visual dialogue that has sparked a number of sister projects, and this year, he is helping coordinate the first Zagreb Design Week, which runs until April 27. And he still found some time to tell us more about the local design scene.
What's going on in Croatia in terms of design? What are some of the strengths and weaknesses of Croatian design?
There are many strengths – the most obvious is the talent. For a land of only 4.5 million, we have many great designers. But there are also weaknesses. Many of our designers have problems with their egos, but I think you can find similar examples all over the world. [Others] are not open to new ideas. Those folks have very strict attitude of what design should be. I see them as "design fundamentalists," and they are not helping the scene to develop.
There are also other problems. For example, many designers have no problem using other people's work and, after minor changes, claiming it as their own. However, the biggest problem for design scene is the fact that our market is very small. There just aren't enough clients for all of those who want to work as freelancers. Also, many clients are still not fully aware that good design sells their service or product better. The good thing is that Croatia is now part of the European Union, which means a much bigger market for our products and more projects for our designers.
What can designers do to help develop the scene and their own work?
I know this may sound a bit corny, but both hard work and imagination can make a big difference. Designers must respect each other's work as if it's their own. … If you see something cool on the internet and modify it and present it as your own, it's still not yours.
I know, time flies these days, people just don't have enough time to sit and draw concepts all day long and then make final designs. It's tough. But if you are talented and have a chance to be creative then you have to be thankful for that … You have a chance shape the world. It is okay to be influenced, but that's as far as designers should go. Stay original.
Where do you "fit" as a designer?
I see myself as creative – maybe even an artist, not necessary a designer. I always try to do something different and new. Yes, I do graphic design and have even worked for advertising agencies as a designer and art director, but I also like doing 3D graphics, street art, jewelry, and paintings, which is my biggest passion. … I don't like any kind of fundamentalism and the same goes for the field of creative thinking. If you take a look at my portfolio, you will see that I don't really cherish one style. I also love following the work of other artists and designers, and I'm always happy if I can somehow help those folks promote their work. That's where the Boonika platform comes in, especially my colleague Tena Razumović Žmara, who organizes BooEx – exhibitions for artists.
Tell us about Boonika. How are you involved with the project and what are some of its aims?
Boonika was founded 13 years ago by my friend Marko Rukavina and me. We had many ups and downs along the way, but now we are an important factor on Croatia's art and design scene. We are involved in many projects and developing new ones every day. Some of those are Booteeq, Boonar, Sudnji dan (Judgement Day), BooEx (Boonika Exhibitions) and so on.
Our first slogan was "we support art, not bullshit" and although we don't use it much these days – yeah, we got older – it still describes why we are really here. … We encourage artists and designers to think of their work as something that can become their own brand, and we advise them to treat it that way. As long as they keep it in their own hands – it's better for them.
And what about Zagreb Design Week? How did you become involved in organizing this event, and why is it important for Croatia?
Zagreb Design Week 2014 will be first and last Design Week in which we will be involved as co-organizers. We decided to join because we wanted to help this event to be as good as it can be. There will be workshops, lectures, many guests from around the world. Every country needs events similar to Design Week, and Croatia is no exception. Design is everything that surrounds us, and everyone should have a chance to visit an event where they can learn why that is so important for modern society.
What are the goals of the first Zagreb Design Week?
To show everyone the power of Croatian design in one place, but also to show what is going on around us. We also hope that investors will be happy to meet designers and hire them.
What happens on Judgement Day, which falls during Design Week this year?
Judgement Day is one-of-a-kind festival. It is the first independent festival for creative communications. We award authors, not agencies. There is no special jury because everyone who works as a professional has the right to give votes. So that means that more than 100 people, and sometimes more than 200, choose winners in 13 categories. Democracy at its finest!
What part of Zagreb Design Week are you looking forward to the most?
I'm happy that I'll finally have a chance to meet our guests in person. We have exchanged so many emails and soon we'll drink coffee and beer together – nice!