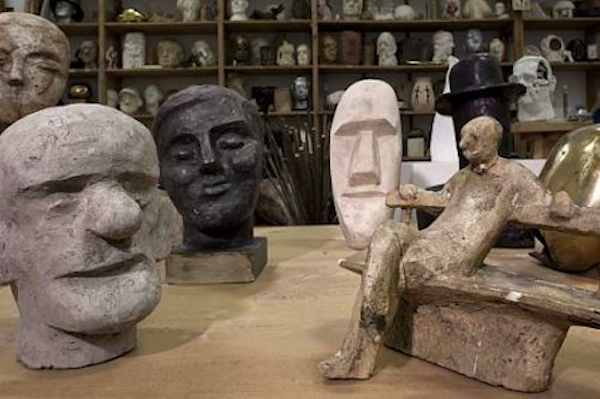 In a small room off of one of the main galleries in Zagreb's Museum of Contemporary Art, wooden shelves display rows of sculpted faces, some as smooth as stone, others displaying the texture of quickly worked clay, while tables and chairs support disheveled piles of crumpled paper and aluminum foil, cans filled with paintbrushes, and bunches of twigs. Other objects you might not expect to find in a museum, such as a traffic blockade and a ladder (or two), punctuate the space. This is the studio of Ivan Kožarić, one of Croatia's best-loved and oldest artists.
Now in his 90s, Kožarić continues to visit his studio, regularly altering, rearranging, and adding to its contents. It's an unusual space, this studio inside of a museum: it is not only a space for creation, but a creation worthy of display itself – and unlike most of the other works on view, it continues to thrive and physically change.
The Kožarić Studio is representative of the artist's body of work as a whole. Guided by a commitment to creative exploration and a playful approach to art, Kožarić's oeuvre is marked by his interest in the idea of intervention – of altering space, place, and tradition whether by physical, performative, or purely conceptual means.
Born in 1921, Kožarić graduated from the Academy of Fine Arts in Zagreb in late 1949. During the following decade, his work largely focused on representing the human figure, while at the same time beginning to explore abstraction. In 1960, Kožarić joined Gorgona, an artist group founded in Zagreb. Strongly associated with the idea of "anti-art" and described as "undefined and indefinable" by its founder Josip Vaništa, Gorgona was not founded in reference to a particular visual or formal artistic style, but rather brought together artists who shared an interest in expanding and challenging modes of artistic production.
A sketch created by Kožarić in 1960 indicates his increasing interest in the conceptual aspect of artistic creation and in imaginative and visionary interventions: Neobični projekt – Rezanje Sljemena (Unusual Project – Cutting Sljeme) presented a proposal to cut into the mountain that serves as Zagreb's backdrop.
In later works, Kožarić would continue to explore the potential of altering public space by inserting objects into it. Several proposals, like Nazovi je kako hoćeš (Call it What You Will) from 1971, a gigantic, hulking sculpture that appears to stomp across a busy Zagreb intersection, were never realized. Others, like Prezemljeno Sunce (Grounded Sun) also from 1971, have been seamlessly integrated into urban space. The large golden sphere sits in Zagreb's busy pedestrian zone, surrounded by café terraces, and is the centerpiece Devet Pogleda (Nine Views) from 2004, a complementary installation by Davor Preis in which the artist placed gold spheres representing the planets of our solar system, appropriately scaled to Kožarić's sun, around Zagreb.
Whether sculpting, sketching, thinking up a seemingly impossible project, or rearranging objects in his studio, Kožarić maintains his desire to sidestep creative confinement and test the boundaries of art, his own imagination, and that of his viewers.
Written by Elaine Ritchel (@elaineritchel)
Image Sources: MSU and Avante-Garde Museum