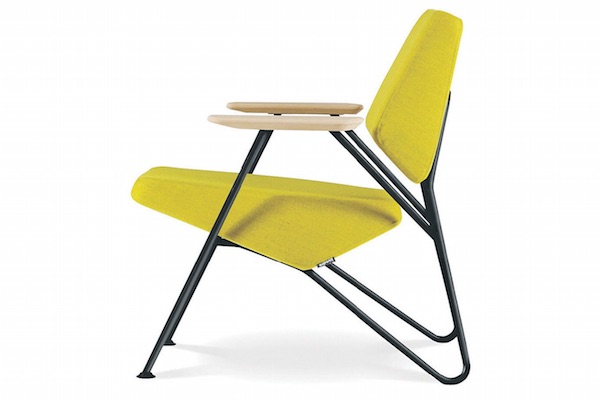 Over the last 15 years, design collective Numen / For Use has produced an extensive body of work that blurs the lines between conceptual art, scenography, and industrial design. Comprising of Sven Jonke, Christoph Katzler and Nikola Radeljković, we spoke to the Croatian-Austrian trio about their design values and process, and the concept behind the products being shown at Wanted Design in May 2015.
Your body of work is diverse. How is your industrial design practice influenced by other projects?
[They] certainly have influenced one another. Work in theatre and installation art liberated us from functionalist dogmas, which we imposed on ourselves at the beginning of our work [as industrial designers]. So our design projects now have a "breath" of playfulness we acquired from other fields.
How could you best describe your design values and aesthetic sensibility?
This depends on the field. In theatre it is important to give the theatric event a framework and a visual identity and to inspire the actors and the director, not to block them. Installations have other criteria. With installations we try to move people and their perception, to provoke a sense of flexibility and uncertainness, to take away their firm ground and stereotypes form them. Product design is something else. Products have to serve people. The user has to have joy in using products, repeatedly, time after time and to discover layers of the product step by step. Often you find a product, which is great fun at the beginning, and very soon you become bored with it. This is the problem with trendy design.
Where do you derive your inspiration from in the world of design or beyond? 
Any good idea is an inspiration. We learn from famous design pieces, as well as from unknown authors of anonymous vernacular objects. From fishermen and weavers to artists and architects.
How do you approach projects & what influences your process the most?
In any field of design, or any constructive human activity, a quest for internal logic and synergetic forces are key topics. We live in world of limited resources and unlimited appetites. These facts leave us with no other choice but to search for solutions, which will solve as many problems with as few activities. When we think of function, we cannot stop thinking on technology, construction or price. Integral, holistic if you want, thinking is essential.
In 2005 Numen / For Use established Element, a joint-business partnership with a local Croatian design furniture retailer. Can you tell us how this venture came about? 
We met at Cappellini showroom in Milan and immediately started planning how to design and produce something in Croatia. Because Cappellini taught us, besides other things, that the producer is not the one with technology or raw material. The producer is the one that controls the appearance. Since Croatia has great raw material, Slavonia Oak, we started from finding a good producer of Oak. The rest was easy.
The DFKT Stackable chair and Polygon chair are being presented at WantedDesign NYC. Can you tell us more about these products?
DFKT was an experiment with the rather petrified typology of wooden chairs. The idea was to make a kind of spiral form. Given the context – it was initially developed for a jazz club – the chair is a kind of improvisation on the theme. Concerning Polygon, we started from a socialist, modernistic upholstered armchair, which most of our grandparents had in their flats. They were all small, but comfortable, light and easy to move. First we started with more conventional forms, but than we realized we have to give it a contemporary twist.
In the context of furniture design in Croatia, what are the advantages and the challenges? 
The advantage is that we [have to] start from scratch. There is a lot of space for development, innovation and experimentation. The disadvantage is that the business sector is very conservative and intimidated. There are a lot of entrepreneurs who still think in terms of a planned economy.
Where can you find your work on display now and in the near future?
The best display of our work is Hotel Lone in Rovinj… the first design hotel in Croatia is filled with our furniture, but there are things all around the world. Recently I recognized the barstools we designed for Zanotta at Zurich airport. [In the future], a new system of sofas we designed for Prostoria will to be launched at Milan furniture fair. We are also developing installations for Paris and Innsbruck, and we have a theatre play in Athens in one month.
Interview: Linda Mateljan