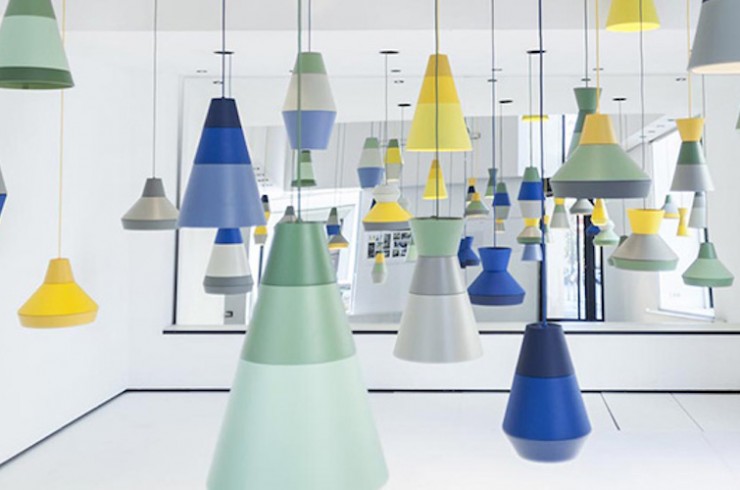 Filip Despot, Tihana Taraba, and Ivana Pavić, also known as Grupa, have been working together since graduating university in Zagreb, a relationship that has evolved into an award-winning design and manufacturing business, Grupa Products. Part of the designer entrepreneur movement which has invigorated the Croatian product design scene, we spoke with the trio about their inspirations, collaborations, and the dynamics of product design in Croatia.
Grupa Products will be showing a selection of work at Wanted Design 2015 during New York Design Week from May 15-18th.
LM: What type of products did you initially start producing and why?
GP: Lighting. We were always preoccupied with idea of doing lighting…Light is particularly inspiring to us, so ideas come from everywhere.
LM: Your product design work has been described as both 'playful' and 'functional'. Where does this 'sense of play' come from?
GP: Recently designers started the trend of designing products that require interaction with the customer. You can find such modularity in process of making our ili_ili lamps for which we read someone describing as "Lego for grown ups". These are the DIY (do it yourself) products in which the customer chooses elements of different shapes, sizes and colors, and is also involved in the designing process. Along the way the user can play with numerous combinations and create the personalized lamp according to his needs.
LM: How do you approach projects & what influences your process? 
GP: We produce to order for different clients and we also produce our own ideas. There is very little design production in Croatia, so designers often have to become manufacturers if they want their products to come to life. When we design to order, it is important to know the clients' needs and wishes. When we manufacture our own ideas, we always take into consideration the production process and develop ideas we can produce ourselves. In this case, we first make a prototype and test the reaction of the potential buyers. If we find the reactions are positive, we start the production.
LM: How has working in Croatia influenced the kind of designers you have become and what are the specific challenges?
To be a product designer at this stage in Croatia is to be very creative, and we don't mean just in creating new designs. We have adapted our designs to the production possibilities of our surroundings and the materials that are available to us. Sometimes the traditional materials and techniques are very inspiring, so we accept and adapt them to the modern requirements. Also the fact that we have become manufacturers occurred spontaneously, as a reaction to the lack of clients. Until the situation in Croatia does not change initiatives and the need to stay manufacturers will exist.
LM: Grupa collaborates as a design studio as well as with stores and brands. Tell us more about your collaboration projects, and any future ones?
GP: Grupa has collaborated with Prostoria, Artisan, REaktor and MODUS design stores in Zagreb. In 2011 Prostoria launched a design competition… we were awarded the third prize. We started the development of the product, because the jury felt that the product had a pre-disposition for success in the market. 3angle is currently produced in two versions – as a two-seater and as an armchair. Co-operation with Prostoria continued with the Monk collection that consists of armchair, chair and tables. The Monk collection was included in project of equipping the hotel Palace in Dubrovnik, a project that was actualized by studio 3LHD.
So far we have worked with all the leading brands and manufacturers from this region. We plan to expand that collaboration to other european manufacturers as well. We are just discussing the potential creation of a collection for established Belgian brand – Serax.
LM: At the moment, where are your products available and do you have plans to enter the US market?
GP: We are slowly building a worldwide retail network. So far, our products can be found at retailers in Europe, Taiwan and Japan, and can be seen at many important EU fairs and in hotels on the Adriatic coast.
The US market is definitely a goal for us in the future. But, we are a "boutique" brand/company, so we let things grow pretty naturally. Regarding US market, the first challenge is to obtain necessary certification so our products can be distributed commercially there. After that, we will try to find the right praters, the ones that can guarantee smart and effective presentation of our brand on such a big and diverse market. Eventually, it will be very interesting to see the reaction of the US market to our products… we keep our fingers crossed.
Interview by Linda Mateljan