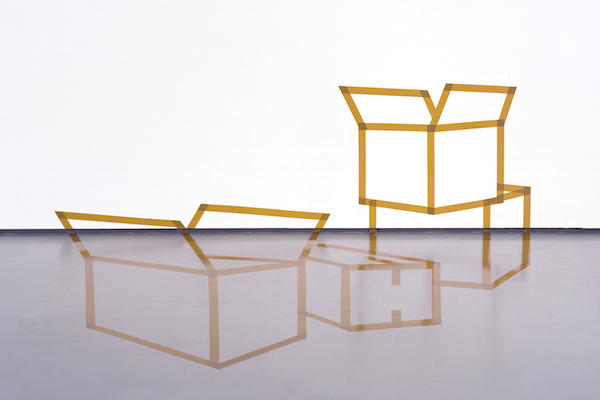 Hailed as "master of illusion" at Manifesta 7, artist Igor Eskinja does tromp l'oeil with a delicate and machine-like precision that lends an air of elegance and refinement to mind-bending plays on perspective and perception. Although Eskinja has exhibited at numerous venues across Europe since 1997, he first showed in the United States last winter in the group exhibition Notes on Undoing organized by Ikon Arts Foundation. Now, Poems of Accumulation and Growth, his first solo exhibition in the U.S., is on view at New York's Scaramouche Gallery.
The title of the exhibition refers to the poetic dimension of the works themselves and the economics of exchange, abstraction, and power. But it also aptly describes the making of these works: Eskinja uses impermanent and shifting media, such as dust and sunlight, that acquire visibility only through accumulation.
Poems of Accumulation and Growth introduces Eskinja's fragile work through site-specific installation and photographs. For the series Made:Inside (2006) Eskinja adhered a linear pattern of brown packing tape to a white floor and adjacent wall that, when photographed from just the right angle, creates a three-dimensional image of cardboard shipping boxes. In photographs of Project Room (2011), dark sand carefully pushed into piles resembles choppy waves and a swirling whirlpool. Diagrams of Accumulation (2014-15) captures traces of sunlight on paper through a chemical process that records the sun's mark-making potential. The subtle patterns appear as though they may slowly fade away over time, as do traces of sunlight on skin.
Untitled (Flanders), crafted at Scaramouche Gallery specifically for this exhibition, is the latest installment of Eskinja's dust rugs – intricate patterns made from the very material that is usually swept under the rug and out of sight. Eskinja's dust rugs are ephemeral and almost organic; they continue to shift and disintegrate as visitors walk by (or right through) them, sending the particles swirling and returning dust to dust.
Eskinja explores object relationships – sun and surface, land and water, dust and carpet – through a language of visual idioms and puns that plays with dimensionality and visual perception, delighting the mind on multiple levels. The impermanence and fragility of his work also prompts questions about making and displaying art. But beyond the conceptual complexity of Eskinja's work, it's also just fascinating to look at. Intricate, clever, and almost impossibly precise, it is rich with the magic that makes illusion so alluring.
Written by Elaine Ritchel