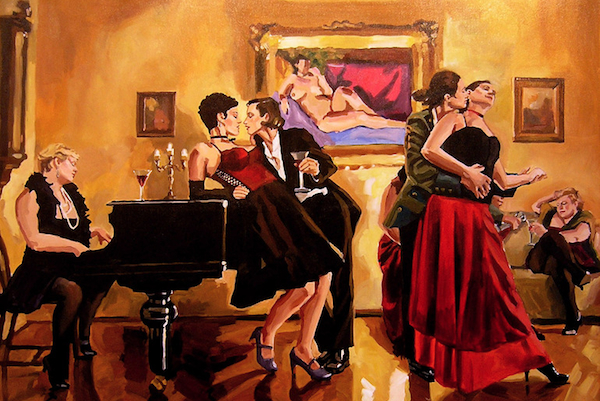 Artist Helena Janečić prioritizes the female protagonist, placing women in visual narratives of confidence, self-awareness, and reimagined tradition. Her work, which ranges from large-scale paintings to graphic, comic-book-inspired drawings, is both witty and engaging while striking a balance between aesthetic rigor, personal narrative, and social commentary.
Janečić currently lives and works in Berlin but grew up in Slavonia, a region in eastern Croatia, where imagery concerning LGBT identity is still something of a rarity. Janečić recently told us more about her work and her desire for it have a social impact in Croatia.
Tell us about your creative background. What drew you to painting?
Before I ever held a brush I learned to play guitar and I drew comics. It was a good way to attract the attention of girls. A few years ago I had an all-girl band and we performed at festivals and galleries in the region and abroad. We were sort of a musical project; even though none of us were professional musicians, we managed to play the instruments on stage and sound like a real band. We played covers of songs that had the word "girl" in them. Playing in a band and performing was another way to express ideas about the LGBT community, pop culture and music.
For some ideas, painting seemed like the best way to convey them. It seemed logical.  I like using traditional media when I paint my narratives. When I get tired of the slow process of painting I draw comics with ink and brush. That is also a very slow process but in terms of creating a drawing it goes faster.
What are some of your major conceptual or aesthetic influences?
I was extremely influenced by the comics that I read, especially Dylan Dog. I wanted to be Dylan Dog! I liked the style that it was drawn in, and I tried to emulate it for some time before I developed my own. I get inspired by pop artists and their music, like Madonna, Lana Del Rey, and French pop star Mylene Farmer. I am very much inspired by Marina Abramović, even though I could never do performance work like she does.
What are some of the important themes in your work?
Important themes for me are humor, erotica, theatrical and cinematic elements, women, gender ambiguity, superheroes, pets.
The women in your work appear to be characters – protagonists, actually – in a narrative. Who are they, and what story are you trying to tell?
I am trying to tell the story of a moment that happened in someone's life but wasn't officially recorded. I am reenacting moments from everyday life, like in the series "Snaše" where I tell the story of two Slavonian women in love. I paint them in their everyday tasks; this way I touch upon their story and talk about the unexplored history of LGBT community in these parts of Croatia.
What about the motif of gender ambiguity that runs through your work?
I myself am gender ambiguous, that is how I always felt. In my work I want to present this type of an ambiguous body because it's not visualized enough.
Would you say that your work is autobiographical?
I appear in most of my work. Sometimes that work is autobiographical, but more often I appear in a narrative that is fiction. That narrative has so far been superheroes and historical and local tradition.
Is it ever difficult to put yourself out there like that, publicly, for anyone to see?
Today everyone is exposed to the public … You can find anyone on Google. In my paintings I have control of how I am going to portray myself, so I am not afraid.  Besides, that way I get a chance to appear next to Wonder Women, Super Girl, and other super heroines.
How has living in Croatia, and more specifically Slavonia, shaped your creative practice?
The surroundings in which I grew up left an impression on me. I made an homage to my cultural heritage in the series "Snaše." The rest of my work however is not related to that specifically. I find inspiration in pop culture, songs, and movies.
How do viewers generally respond to your work?
Promoting a lesbian identity is not a popular thing in the Balkans. Given that these works were presented in such a cultural climate that is just starting to open up, the reactions were surprisingly positive and encouraging.
What would you like your work to achieve? Do you have any particular aims?
I want my work to inspire, educate, and entertain. It's important for me to portray women as active, independent, self-confident characters. That is how I want them to appear in my work. Hopefully with my work I can make an affirmative impact in the current and future LGBT generations in Croatia and the region.
Are you working on anything specific right now that you are excited about?
I am working on an autobiographical comic about my life in Osijek. In the comic I want to talk about my coexistence with my mom, and also my lesbian existence in a small town, my relationship with my girlfriend. Right now I live in Berlin, and I am very excited about that. I would like to spend some time here, paint, draw, and have a little job on the side.
Interview by: Elaine Ritchel
Image Source: SaatchiOnline