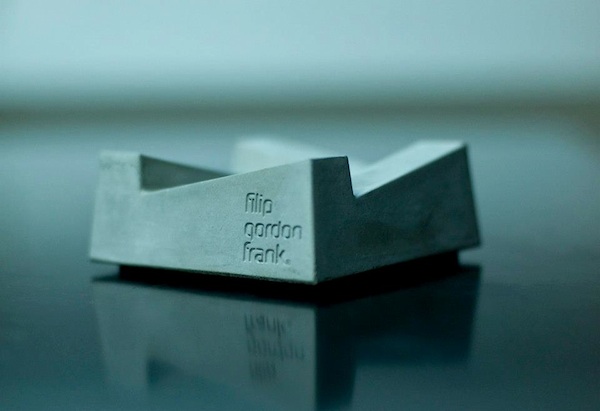 Last year, designer Filip Gordon Frank relaunched his Mini Me table lamp, previously manufactured and distributed by spHaus, after starting his own production company. The reintroduction of this swooping lamp, allegedly inspired by the continuous curves of a paperclip, was met with quite a buzz. Simple, functional, and colorful, Frank's Mini Me lamps are design conscious without being pretentious, appealing to budget-minded students and design connoisseurs alike.
Frank's other products include a concrete ashtray dubbed Ashley and a curvaceous table called Archipod Low that, like Mini Me, is a result of his research on continuous forms. Having specialized in interior design in Milan, Frank also designs interiors and even exhibitions.
Ikon Arts Foundation recently caught up with Frank to ask him more about his work as a designer, his new production company, and his future plans.
Tell us about your company, Polymorph. Is this where all of your products are manufactured? Why not have another company manufacture them?
I started the company just over a year ago with the idea of manufacturing my own products. I had some previous experience with foreign companies manufacturing my products [however]… I got tired of sending sketches and knocking on doors just to get an opportunity to show my ideas. Partly it was because I wanted to start producing whatever I thought was worth it and have control over production without having someone telling me to change something.
Do you have any particular design influences, in Croatia or abroad?
There were obviously designers I admired [when I was] younger and there are still designers whose work I appreciate, but I think it's the context and culture of my surroundings that somehow determined my path. It's hard to talk about influences nowadays when the information is so easily accessible. The images and influences just stick into your memory, whether you got them on the Internet, TV, an exhibition or somewhere else.
Tell us a bit about your creative process. Where do your initial concepts come from? Where do you get inspiration?
I find it easier to invent projects on my own than to design under pressure for a client. It's really how you approach the task, but you are more relaxed when being able to decide on your own how to work. I get my inspiration everywhere and all the time. It's a constant process that never stops, and that's what makes my job interesting, although I don't really consider it a job – it's more of a way of living. You are not a designer from 9 o'clock in the morning until 5 o'clock in the afternoon: something always comes to your mind when brushing your teeth before going to bed or boiling an egg on a Saturday morning.
You're not just a product designer – you've also done interior and exhibition design. What is the relationship between these three fields? Why not specialize in just one?
I started designing interior [due to the] lack of opportunity to design furniture, which has been my love ever since I started studying. On the other hand, these fields are so close to one another that sometimes it is hard to separate them. In my opinion, a designer should be able to work in all these fields and each of them opens up your horizons and enriches you with new experiences.
Are you currently working on any new projects?
Sure. Several interiors and a couple of new objects that I plan to present during the furniture fair in Cologne next January.
What is your dream project?
I'm working on a concept that would incorporate all design fields that interest me in one place – a kind of a concept store/studio. You might call it my dream project.
Interview by Elaine Ritchel (@elaineritchel)
Images courtesy of the designer