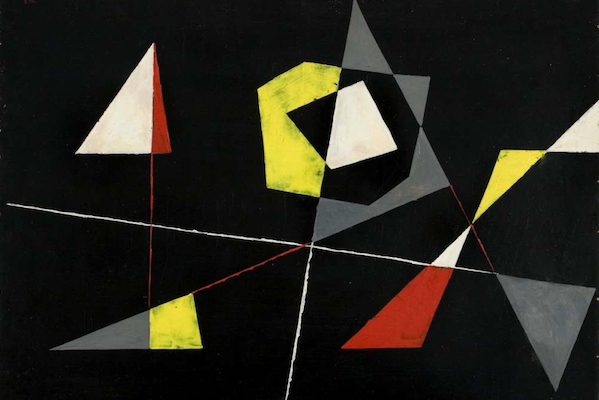 The year 1951 was a significant one for the development of art in postwar Yugoslavia. That year, a group of artists living in Zagreb established the group Exat 51, short for "experimental atelier." Comprised of architects Bernardo Bernardi, Zdravko Bregovac, Zvonimir Radić, Bozidar Rašica, Vjenceslav Richter, and Vladimir Zarahović, painter and kinetic artist Aleksandar Srnec, painter and filmmaker Vlado Kristl, and painter and graphic designer Ivan Picelj, Exat 51 considered its main task to be the synthesis of all fine arts.
Rather than develop a particular style, the group defined itself by its shared ideals and a commitment to abstraction and experimental art. Formed just a few years after the Tito-Stalin split of 1948, Exat 51 can also be understood as a response to Yugoslavia's push to politically distance itself from the Soviet Union. According to the Exat 51 manifesto, the group believed that the methods and principles of abstract art are not "decadent tendencies," but rather believed that they could develop and enrich the visual arts. This was a direct allusion to Socialist realism, an artistic style developed in interwar Soviet Union that adhered to representational work and restricted individual expression.
In 1952, the group held its first exhibition in Croatia at Picelj's home, and Picelj, Rašica, and Srnec participated in the Seventh Salon des Realités Nouvelles in Paris, the first noninstitutional appearance of Croatian artists at an international exhibition after World War II. That same year, author Miroslav Krleža followed suit for literature in a speech at the Third Congress of Yugoslav Writers, denouncing Socialist realism and defending the individuality of writers.
Apart from opening Yugoslavia to developments in the international art world, Exat 51 is considered the foundation for subsequent avant garde movements, such as Gorgona and New Tendencies. The group also helped organize the First Zagreb Triennial of Applied Arts and establish the Gallery of Contemporary Art in 1954 and the Studio for Industrial Design in 1955. Exat 51 disbanded in 1956 to pursue their individual practices, but their collective presence during this pivotal moment in the history would guide the subsequent development of modern and contemporary art in Croatia.
Written by Elaine Ritchel (@elaineritchel)