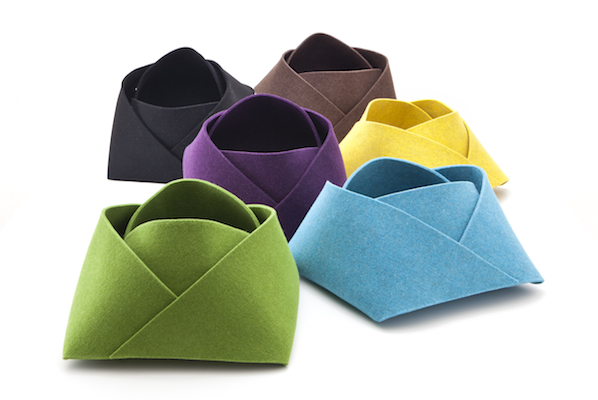 Known for her vibrant colors and experimental surface textures, Svjetlana Despot, is one of Croatia's most prolific designers. Her work can be found in homes, hotels and design stores in Croatia, and internationally. Despot took some time out to speak to us about her designs, inspirations and the challenges of building an independent design business in Croatia.
You have been a practicing designer in Croatia for over 25 years, what initially inspired you to pursue a career in design?
My story is pretty simple. Even as a little girl I was always making something with my hands, and since then I haven't stopped doing the same. Although design should be serious according to some people, I don't look at it in that manner. For me, the meaning of design lies in communication with humans and its power to beautify our lives.
I started as an interior [designer] and realized that I constantly lacked pieces that provide a targeted atmosphere in minimalistic spaces. 25 years ago our market offered 2 types of everything in 3 colors. To overcome the absence of a Croatian industry [at the time] I started my own on-demand production. At that time, my business model was considered as highly innovative, and the experience I gathered was priceless for when when I started to design products for other manufacturers. My first designs were for furniture factory Finvest Corp d.d., then I started to design a series of carpets for carpet factory Martin. I started to design, produce and distribute my own brand Data by Despot [and] today it consists of 5 collections and over 100 different designs.
Where do you derive your inspiration from in the world of design or beyond? 
Everything I know on this world can inspire me… the key is to clear your mind and only then you can realize what is important and focus on it. Inspiration, or its source, are static dimensions if clarity of mind can not be achieved. Sometimes inspiration finds me, and sometimes I have to look for it… I can only observe and hope to feel that click that clearly reveals the solution I`m searching for.
Your work has been described as "fun" and "loud", has this been consistent for your design aesthetic or has it evolved over the years?
When talking about Data by Despot aesthetic experience is of the essence. This brand is not dedicated to functionality, it is meant to be a personal and intimate gesture. These objects are not something your space needs to be functional. You just sense them as a missing link that highlights a desired atmosphere.
You seem to focus on surface structures, why is this an interest for you? 
Since I don't have the opportunity to design my own textile patterns… I use only high-quality monochromatic materials and the structures provide the meaning and the context for an otherwise anonymous object. The textiles I work with are chosen carefully to provide an exquisite, tactile experience that turns on all of our senses.
Are you still using the same materials and technical processes, or have they evolved?
I like to constantly experiment with new materials and technical processes, but I do think old manual skills are at the core of our existence. Therefore, manual work will always be present in my products. Some collections are practically a celebration of handcraft while some are more connected to new technologies. I don`t have any rule in ways and methods of manipulation, except one: only by combining traditional ways and hi-tech processes the perfection of each becomes tangible. Each of my collections contains items related to the same concept determined by form, material, and technology.
Your products have been described as 'eco-friendly', what are your thoughts on eco-friendly design?
Today we are all concerned about the environment and the damages caused by industrial production. We choose materials that can be recycled after consumption or the product itself can be produced out of such materials. Consumer culture, lifestyle magazines, and commercials are forcing designers to create more products, without taking into consideration the consequences of  their production, use or disposal. I think most of my passion for recycling is conditioned by my heritage of living in a poor country. To make something out of nothing is an everyday occupation here.
In the context of product / furniture design in Croatia, what are the advantages and the challenges? 
We have great designers in Croatia. Even during ex-Yugoslavia you can find proof of great design. Unfortunately, we are in deficit of production technologies, which change overnight making this disadvantage even harder to overcome. However, if you want to produce, you will find the way for it. Poverty or absence of something should be realized as an advantage and great source of innovation and brilliant solutions.
There are not many design traders in Croatia, but over the last three years design and concept stores have been spotlighted. This will have a great impact on changing the culture of living and design itself in Croatia. Consequently, it will attract foreign design lovers to recognize the quality of Croatian production and design, and it should because we have much to offer to the world.
Interview by Linda Mateljan